Marina And The Diamonds: The Family Jewels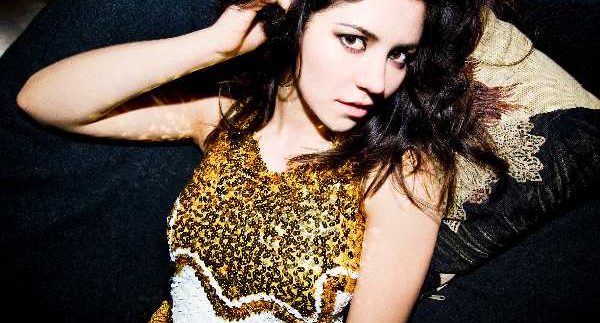 In the past year alone, the UK indie scene has produced some of the most
inspiring female vocal powerhouses, including Ellie Goulding, Florence
and The Machine, La Roux, and most recently, Marina and the Diamonds.
This
24-year-old Welsh-Greek singer has only been in the music business for two
years, but after her song 'Hollywood' hit the UK radio waves, Marina and the
Diamonds (real name Marina Lambrini Diamandis) has gone on to earn a 2010 Brit
Award Nomination and a runner-up position in the Sound of 2010 BBC competition
after Ellie Goulding.
Marina and
the Diamonds uses her quirky vocals like an instrument (very much like Regina
Spektor); and you can hear
influences by Kate Bush, Tori Amos and Gwen Stefani in the way she fluctuates
from heartfelt eloquence to almost operatic yelling. Sometimes it works; other
times, it's borderline annoying on tracks like 'Hermit The Frog'.
Like Amos,
her singing is rich with irony and humour; like Florence and The Machine, she relies heavily on 1980s
synthesisers, drum and bass. She tends to overemphasizes her lyrics in a
childlike manner on tracks like 'Mowgli's Road' and the afore-mentioned 'Hermit'. Like Lady Gaga, her style is theatrical and dazzling, yet there's more
substance to her voice and lyrics than Gaga.

The Family Jewels is a stellar debut album with songs about identity
issues, the pressures of fame, being a social outcast and the obsessions that
come with a tumultuous relationship.
'Hollywood' is one of the album's standout tracks; a simple
criticism of society's obsession with celebrities and how Hollywood distorts our
sense of reality. 'Numb' is a
delicate post-break-up song with an opening that sounds far too similar to Florence and The
Machine's 'Cosmic Love'. As beautiful as the track may be, this song shows that
she has yet to master her own unique style without deriving from others.
'I Am Not
A Robot' is a beautiful and touching track that delivers a killer verse: 'It's Ok
to Say You've Got a Weak Spot/You Don't Always Have to Be On Top/ Better To Be
Hated/ Than Loved, Loved, Loved for What You're Not'. The simple lyrics will
touch a universal audience in their call for originality and courage against
social pressure.
With such
a promising start to her two-year-old career, we expect greater things to come
from this witty indie-pop singer.