Maryam Saleh: Mesh Baghanny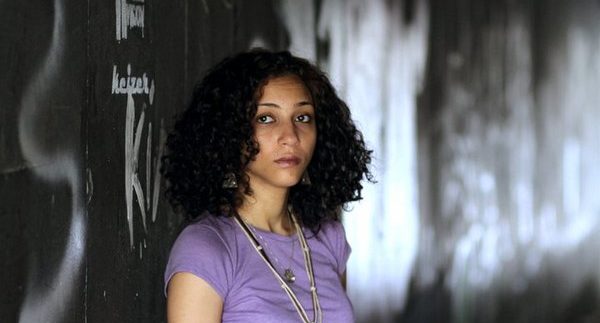 After years of performing at Cairo's best venues, Maryam Saleh has taken her act from stage to studio with aplomb.
Saleh's debut album, Mesh Baghanny, stands out first and foremost because of its unique, eye-catching cover; a perfect indication of the Egyptian singer's eclectic musical palette. Saleh's stoic face is adorned with Oriental motifs; an invitation to delve deeper into the the multi-talented performer's life.
Saleh's style of music crosses the Oriental and rock genres in their broadest forms, and the album as a whole embraces heartbreak, passion and freedom. The poignancy of this amalgamation manifests in the melody, the lyrics, and the performances that lie behind them. Even the lighter songs offer satirical lyrics and Saleh's own brand of dark humour.
Maryam starts and ends her album with a quatrain, 'Roba'aiyat Shaggar El Toot" (Blueberry Trees Quatrain), as well as an interlude in the middle of the album. Each piece is about a minute and a half long and three parts together add a theatrical quality to the album; there's an opening scene, an intermission and a closing scene.
The first track 'El Donia' (The World) talks about the pitfalls and unanswerable questions of life; we feel lost no matter what we do. It follows a slow tempo, warming the listener up for what's to come.
Saleh's most known and loved track 'Watan Al Akk' (Nation Of Chaos) is where the dark humour kicks in. Saleh manages to express frustration towards the powers the be, whether they be social or political, while infusing such a dicey subject with danceable rock music.
Similar themes drive 'Sor'et El Ayam' (The Speed of
Days). Beginning with
an uplifting tone, it ends on a damning tone: "It
doesn't matter."
'El Ghariba' (The Stranger) and 'Toul El Tariq' (Along the Way) are where Saleh plays with melancholy and hardship. The former talks about the loneliness of autonomy, while the latter describes the singer's tumultuous love-hate relationship with Egypt; something we can all relate to.
She delves further into sorrow in 'Leh Tenrebet' (Why Be Tied Up?) which addresses lack of freedom, describes frustration and evokes the feeling of being paralysed by societal restrictions – another theme that Cairenes will identify with.
Impressively, Saleh has composed the majority of the songs; a process that has allowed her to really express her versatility and understanding of the demanding recording process. Make no mistake, this is no Nancy Ajram or Haifa Wahbi – Maryam Saleh is the real deal; a student of music and an artist in every sense of the word.
Every track on Mesh Baghanny has meaning; the more you listen to the songs the deeper they get.