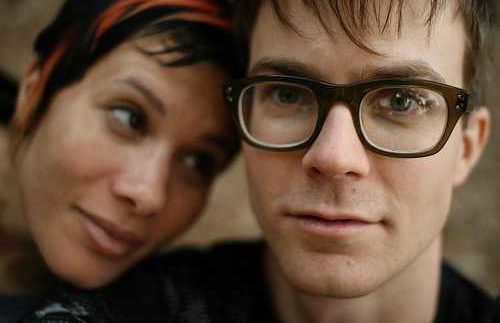 This synth-punk duo from Brooklyn met
in college in 2004, where their energy-infused beats began earning them a
fanatically fun reputation. After gaining notoriety for their strip down in
Times Square while filming this music video, the
duo released their third album, Sidewalks, following their 2006 self-titled debut and the 2009
album Grand.
Released on November 2, Sidewalks
was produced by Ben Allen, who worked with P. Diddy, Gnarls Barkley and Animal
Collective, which probably explains the hip-hop element and the more polished pop sound that he adds to Matt
Johnson's synths and Kim Schifino's punk drum sound.
Sidewalks' sound reflects
the mainstream hum-drum that coincides with the duo's desire for pop chart
success. With past favourites like 'Lessons Learned' and 'Daylight' bringing in
millions of views on YouTube, this ten-track album is sure to supersede their
expectations. However, if it's up to us; struggling through the bouncy synths
and giddy rhythms proved a bit too much for our liking.
With a hefty amount of sunshine and sweet sentiment, the album
definitely includes a living life to the fullest thematic, which isn't anything
new. 'AM/FM Sound' is the second track on the album and the epitome of that.
Somewhat of an idealistic anthem, the song's redundant vocals about leaving the
past behind is enough to make you search for the stop button.
Taking it down a notch, 'Northeast' is a track that slowly drags along a
wintery melancholy that is definitely out of place and unexpected of such a
happy pop duo. While the tempo tries to pick up a bit, the song lacks depth. While
the track's downbeat may be meant to catch you off guard; but a disappointing
surprise is never good.
'Ice Melts' closes the album out with its odd mix of groovy synths and
misplaced horns. We give them props for the use of the cowbell and Kim's drum roll;
but other than that, we were left asking where the rest of Sidewalks was.
The poppy sing-along melodies might be catchy,
but they are not clever. Overall, the album lacks a consistent flow and its repetitiveness
only seems to push us further away from the universal style that this duo
attempt to promote. Listen to Sidewalks if you're up for a good house
cleaning and need some energy to get you going; but if you listen too hard, it
will all sound the same.