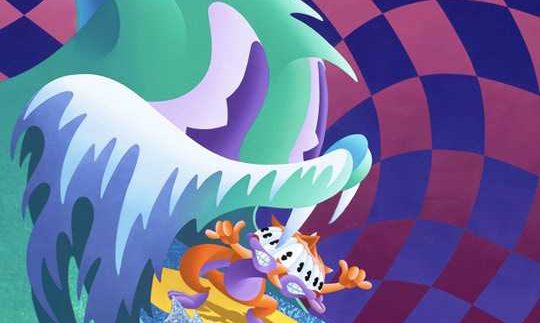 Sometimes, success comes to those who couldn't care
less about it, and in the case of Brooklyn duo MGMT, the sentiment fits
perfectly. Ben Goldwasser and Andrew VanWyngarden are two art students
that craft irresistible hooks with a gleeful aftertaste. After their two
undeniable pop gems 'Time To Pretend' and 'Kids' were released off their
debut album Oracular Spectacular, they
were hailed as the next indie sensation. Who would turn their back on such a
sweet gig? Well, as it turns out, none other than MGMT themselves.
Are there anymore 'Time to Pretend' or 'Kids' on Congratulations? No. Is it worth a
listen? Yes.
To all those who'll seek Congratulations for a fix of dispensable pop, MGMT has a sadistic
musical tease waiting for you instead. The hooks are there; so much so that
they stifle each other. Ideas are not given enough breathing room, and there is
a noticeable lack of choruses and any form or structure to hold onto. Yet it
works, mostly because of their flair for weaving inviting albeit dense
melodies.
Drawing heavily from their
influences, the duo is anything but subtle when borrowing from their beloved
70s psychedelic rock and 80s electro-laden post-punk sounds. Their songs are
almost like paintings, with illustrious lyrical imagery framed in immersive
ethereal sounds.
The ambivalent and distant opener, 'It's Working', sets
the tone both musically and thematically, and by the end of it you're prepped
for the journey Congratulations asks
you to take. 'Someone's Missing' and 'Flash Delirium' continue sailing through
the genial waters until the album reaches 'Siberian Breaks'; a 12-minute epic with
enough ideas to fill an album on its own. The album ends with 'Congratulations', a song that ties in perfectly
with the opener and has MGMT questioning the validity of their own cynical
stance.
Artists perplexed by their success is a common theme
in sophomore efforts, and spilling their guts out is how most of them react,
from Weezer to Britney Spears– what was 'Lucky' but a premature cry for help? However, MGMT are too self-aware to get lost in their own heads, after all, they
joked about it, if not prophesied it
from the get-go in 'Time to Pretend'.

Congratulations
could either be a testament to or against commercial success affecting the
creative process; but whatever your verdict may be, MGMT makes a strong case
against the vanity of fame and fortune.