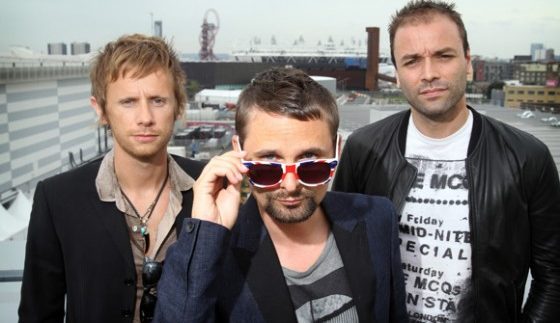 Ever since they started out, way back in 1994, the English rock trio Muse have proudly worn their musical influences on their sleeves. Main man Matthew Bellamy could be the bastard child of some Frankenstein laboratory antics, rolling the DNA of Queen's Freddie Mercury and Brian May into one.
Getting their rock-opera kicks out of the way on the epic 'Exogenesis' – a three track symphony that concluded their previous album, The Resistance, Muse take it down a notch on the hysteria and bombast on their latest effort, The 2nd Law.
'Survival', the official song of the Olympic Games 2012, still features opera-esque backing vocals, staccato synths and anthem-defining handclaps and Bellamy pulls out all the stops on his vocal register on album opener 'Supremacy'. But overall, they manage to keep the lid on the over-the-top stadium rock madness they're so keen to act out, which makes The 2nd Law a lot easier to digest than The Resistance.
Aside from Queen, the progressive rock threesome do some serious channelling of INXS in the groovy drum pattern of 'Panic Station' and give their best U2 impression on the delay drenched 'Big Freeze'. 'Save Me' and 'Liquid State' are both written by bassist Chris Wolstenholme and he takes to the mic on them too.
Despite doing a fine job on the vocals, the two songs are a clear reminder of how defining Bellamy's high pitched voice is in Muse's sound – with Wolstenholme taking centre stage, it almost sounds like a different band. 'Liquid State' is clearly reminiscent of the Foo Fighters, with rolling drums, energetic punk riffs and vocals that are slightly drenched in reverb.
'The 2nd Law:Unsustainable' and 'The 2nd Law: Isolated System' are built around spoken word samples and, surprisingly, are clearly inspired by dubstep-crown prince Skrillex, with lots of glitches and clipping throughout the compositions. As the titles suggest, these two songs form a separate entity as a closing theme to the album.
After a few spins, however, they come across as gimmicky and diminish the overall enjoyableness of the album. Due to the lack of clear, unaffected vocals and the use of the same sample in both songs, they get repetitive fairly quickly and become tedious. They make an otherwise great album end on a low note.
The 2nd Law is named after the second law of thermodynamics, which states that the entropy of the universe always increases in the course of every spontaneous (natural) change. In layman's terms, it means that over time, differences in temperature, pressure, and density tend to even out.
To an extent this is an appropriate title for the album; after a few listens, differences in genre and vocals tend to even out, making The 2nd Law a typical Muse album: creative, entertaining and well worth your time.