Young Money, Universal Motown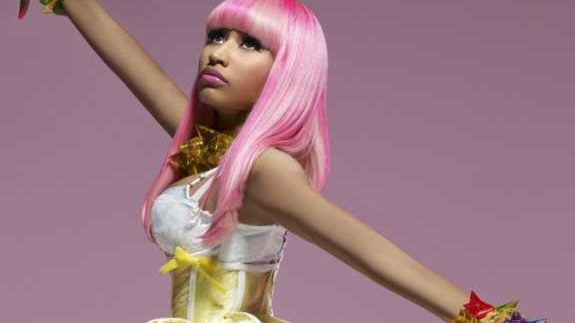 Nicki
Minaj has been strategically heating up the rap and hip hop scene for a few years now. Her
powerhouse techniques of bubble-gum fluorescent looks, eyelash-batting and
gravely gangster rap place her in a rare circle in the hip-hop industry; and if
critics' responses are anything to go by, it may be a lonely one. Of
Trinidadian descent and raised in Queens,
Minaj's sound is recognisable but new. Her debut album Pink Friday follows a series of mix tapes and collaborations that
have been circulating for a few years.
The
protégé of Little
Wayne has been busy making a name for herself with appearances alongside
Jay Z and Kanye West (see 'Monster', where the majority of critics agreed Minaj
outshone her superstar teammates); Trey Songz and Drake. She has also dabbled in
experimental electro pop while working with British-Sri Lankan rapper
M.I.A.
Minaj's
first studio album reveals a few different sides of the performer: fans who
were excited about her ability to unleash aggression with high-energy and
obscene lyrics while maintaining a ladylike allure may be surprised to discover
a softer, more melodious artist on most of Pink
Friday's thirteen tracks.
The
first three songs cement the Minaj image as one of unstoppable grit: Minaj is fierce, unbeatable and intimidating; the first track 'I Am the Best' wastes
no time establishing this. Once you move past the fast-paced tirade 'Roman's
Revenge,' in which Minaj raps alongside Eminem, the album transitions into
softer territory. 'Right Thru Me' shows Minaj's vulnerable side as she tones
down the rapping and sings about the pain of being taken for granted. The
latest single off the album, 'Your Love' once again showcases Minaj's tender
side, as she raps through an Annie Lennox sample about immortal devotion.
It
is still unclear what Minaj's place will be among female rap legends such as Foxy
Brown, Eve and Missy Elliot, Lil Kim et al– and she is still fighting for it.
Feuds have already been sparked between Minaj and Brown, and Minaj and Kim, and
controversy about Minaj slandering Lil Mama in her lyrics have been aired. As
the reported first lady of Lil Wayne's label Cash Money, Minaj has also been
named the female counterpart of 'the best rapper alive.'
Minaj
makes a name for herself with her quick-handed techniques of alter rapping
personas, her knack for rapping in different accents (from Queens
slang to a Trinidadian drawl to a ditzy-British inflection), and her penchant
of keeping herself in the spotlight. She doesn't abuse her sexuality; but she is
certainly conscious of it. She doesn't try to beat the boys at their own game,
but neither is she content to take her place comfortably among the industry's
female leads.
Critics
are still waiting to see how successful Pink
Friday will be, but Minaj has already claimed her place in the game,
saturating the hip-hop and music industry with her sound and image. As a body
of work, Pink Friday is not
revolutionary, but it should encourage listeners to focus on the bigger picture.
She's already proven herself and shown off her talents; at this point she may
just be having fun.