Olof Arnalds: Innundir Skinni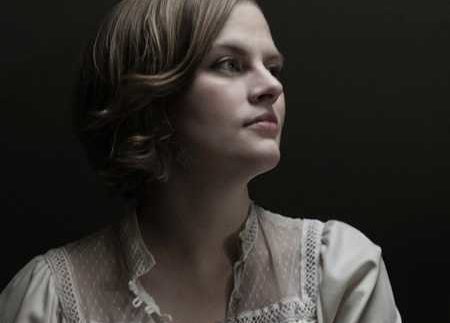 The mystical grounds of Iceland have blessed us with
yet another musician to join the ranks of quirky Björk and moving Sigur Ros to
bring us that remarkable and memorable Icelandic sound: delicate, ethereal, and
deep. Björk and Sigur Ros have effortlessly made themselves known worldwide,
and this little beauty is well on her way.
With her solo guitar and folk-laden sound, Olof
Arnalds isn't necessarily new to the music scene but she is one yet to be
discovered. Her debut album Vio Og Vio was released in 2007,
highlighting the insight and knowledge of her years of composition study,
violin practice, and her earthy classical vocals. Arnalds has been a touring
member of Mum since 2003 and has experimented with artists such as Storsveit
Nix Noltes, Mugison, Slowblow and Skuli Sverrisson.
Produced by none other than Sigur Ros' Kjartan
Sveinsson, her newest album Innundir Skinni was just released. And to our
delight, from beginning to end, she seems to float through rather beautifully.
Like her previous album, the vast majority of Innundir Skinni'slyrics
are sung in Icelandic. While it can be disconcerting for some listeners, it
also lifts the music to a much greater level of understanding.
On the opening track 'Vinur Mann', Arnalds' voice
grabs you from the start and sweeps you into a great escape with her airy
vocals and folkloric undertone. The
tempo is slow but steady with a gradually increasing amount of depth.
'Crazy Car' is one of those songs that leave you
aching for falling leaves and a sweater to keep you warm with its autumn
imagery. Not only are the lyrics sweetly reminiscent of love and travel, but
the delicate use of the strings also take you on a journey intertwined with
simple harmonies.
'Surrender' featuring Björk is a slightly more
spiritual take on relinquishing all that binds us. The strict plucking of the
guitar and Björk's contesting melody are a more powerful concept than simple
background noise.
If the slightly cooler weather is beckoning you to a
little bit of self-introspection or even peaceful background music; this album
should not be overlooked. The magical quality coalesced into the album's
exquisite sound to the sweet, awakening vocals of Arnalds will leave you at bay
in no time.