One Direction: Up All Night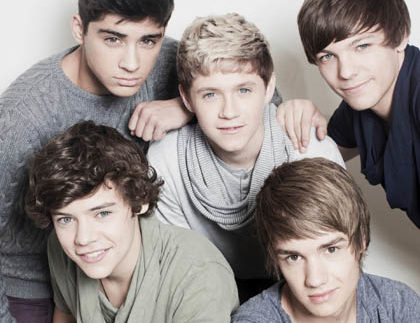 After sweeping the audience off of their feet on the seventh season of popular UK 'talent' show, The X Factor, One Direction's debut album Up All Night has directed (pun intended) the young lads into the saturated genre of teen-pop. You know, the one that churns out generic, miraculously chart-topping love songs that earn them unexplainable screams and faints of young girls; a category that, while reaped great popularity in the 90s, has no logical explanation today.
Exaggerated propaganda aside, One Direction does have a couple of songs that were apparently well-received on the 13-track Up All Night. Co-written by Kelly Clarkson, among other deeply respected songwriters, the album holds a few electro-pop tunes like 'Tell Me a Lie', which is the most evident of Clarkson's collaboration. A song that was actually meant for the American Idol winner's latest album, it carries her signature tempo structure – where the song hits its climax with energised instruments and loud vocals.
One Direction's supposed hit, 'What Makes You Beautiful', returns to an earlier pop era belonging to the Backstreet Boys and 'N Sync; prior to when electronic sounds ruled the scope of the musical landscape. This song is relaxed and clichéd, with lyrics that express young love using cheesy and inoffensive ways of expressing it.
The album fails to show any diversity or musical flair where the songs seem to flow in the same direction (pun unintended), regardless of whether it's a 'happy' or 'sad' song. Almost identical drum variations and snares are paired with guitar riffs and piano pieces to form the backbone of most of the tracks. The songs do, however, vary lyrically where 'More Than This' paints a wholesome heartbroken picture; the exact opposite of the overly energetic 'Up All Night'.
Having said all this, Up All Night still manages to offer a selection of styles, making it all the more confusing. However, the band members themselves work hard to establish a standout image, one that carries over through the majority of the album. The 'hip boy-band' image comes across by the truckload but isn't that surprising in the context of the current, mostly cringe worthy, pop scene – it's anything but original.
From the start, it's been obvious that the cards hold a love-them-or-hate-them future for One Direction. Their insanely questionable popularity is likely to triple the criticism they get, especially for those who aren't particularly taken by them.
However, compared to a lot of the painfully bad music we hear these days, with offbeat vocals and cacophonic music compositions, One Direction may head in the right direction (pun intended) if only they'd work hard on moving away from the flock.