Rachel Zeffira: The Deserters
Alternative & Indie

Classical

...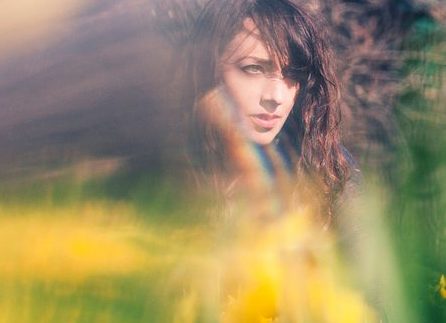 Classically
trained singer, Rachel Zeffira, turned heads last year when she teamed up with lanky
British punk-Goth, Faris Badwan. The Italian-Canadian soprano, now based in
London, formed alternative-pop act, Cat's Eyes, with the Horrors front-man; a
move that yielded as much positive press as it did ums and ahs.
One EP and
one LP later, Zeffira has launched herself into the world of pop music with
solo outing, The Deserters; a
ten-track album that portrays all the qualities that we want to see in a soprano-turned-alternative-pop-singer
– or good girl gone bad.
While Cat's
Eyes' eponymous first album was peculiarly influenced by Badwan's possibly
fleeting obsession with 60's girl groups, The
Deserters sees Zeffira utilise her classical background to subtle affect.
The title
track launches the album into a grandeur of sounds; piano and strings
threaten to pull you into a subversively spiritual sulk but for the Middle
Earth folk drumming and pipes that open up the track to Zeffira's expansive
musical world.
'Letters
from Tokyo (Sayonara)' is another haunting, piano-driven number, while 'Front
Door' show's a delicate charm: "He's the one I've longed to see/The rain is
falling through the last leaves" sets a trail that climaxes to a repeated "He's worth waiting
for"; it's a welcome and needed effeminacy to an otherwise broody body of
songs.
More autumn
and winter imagery propel 'Silver City Days' and 'Star', before the addition of
harps marks 'Waiting for Sylvia' as one of the highlights of an excellent album.
The first swerve
ball comes in the form of 'Here On In'. Certainly the most straight-up pop you'll
find on The Deserters, it's a track
of indulgence; the type that's motivated by adolescent pop ambitions. In this
case, Zeffira channels Fiona Apple and the likes, but maintains her haunting
vocals. The same can be said of 'Break the Spell'; a faster drum-driven track
that hints at the type of musical drama that Florence Welch effortlessly produces.
Away from
her musical roots, Zeffira's voice is by no means unique; her voice could be
that of Isobel Campbell or Natasha Khan, aka Bat for Lashes. But her classical
background has given The Deserters a distinctive
perspective. As of now, where this might take her on a second and third album
is a complete unknown.
But as a
first chapter to what is an already engaging story, The Deserters is handsome, reserved and occasionally extends
warmth, only to pull it back again in one piano note. It's the alternative
Christmas album of the year.