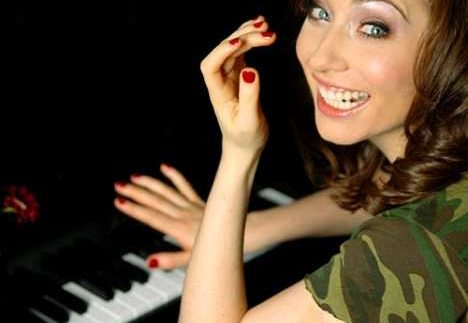 Regina Spektor, a singer/songwriter
known for her contribution to New York's anti-folk music scene, recently
released her fifth album Far .



In the early 2000s, Spektor landed on
the independent art scene, merging genres of classical, jazz, rock and
hip-hop. She has built her name on piano ballads that demonstrate not
only her classical music training but her astounding vocal range and an
innate gift to manipulate scales playfully.



The musical production of her first
three albums, 11:11 , Songs and Soviet Kitsch was extremely minimal, proving that she
didn't need synthesizers or other electronic manipulation. Her piano,
voice and story-telling abilities were best in their rawest form, and
they were a breath of fresh air in contrast to most contemporary
performing artists.



Many fans and critics of Spektor were
weary in 2006 when she released a much trendier, radio-friendly album
called Begin to Hope , which
many believed was a departure from the quirky, minimalist genius of her
first three albums.



After 2006, Spektor fans were
therefore divided into two camps. There were those who wanted her to
return to her earlier style and others who were excited about more
radio-friendly tracks. With her newest album, Spektor surprised fans by
following neither of the two paths everyone was betting on. Instead, she
decided to pave her own way in uncharted territory.



The new album, Far , has the 'produced' sound of Begin to Hope with a much quirkier
old-Spektorian feel. The album is filled with her fantastical
exploration of vocal range, a fusion of classical piano with electronic
production and a sheer experimental quality that is an exciting step in a
new direction for Spektor.



Although this is the artist's most
musically-produced album to date, there are still distinct Spektorian
elements to the album. Her mastery of unorthodox vocal techniques
(making beats with her lips, singing the sound of children crying,
emphasizing certain syllables and acquiring different accents) are back
in the form of realistic dolphin sounds in 'Folding Chair' and
reflecting the staccato rhythm of the piano with humming and moaning in
'Dance Anthem of the 80s.'



Her signature storytelling, a major
reason behind her fame in her early East Village days, returned in quite
possibly the best song ever written about returning a missing wallet at
Blockbuster. Spektor is also known for injecting a healthy dose of
humour into thoughtful everyday reflection. In 'Laughing With,' she
sings about how perceptions of God are greatly circumstantial in the
extremes of tragic times and religious fanatical rants. She adds 'God can be so hilarious, Ha ha, Ha
haaa.'



Unfortunately, many fans and critics
wrote Far off as being
over-produced and evidence that Spektor hasn't been the same since
2006. However, careful ears and open minds will recognize that although
the album has a new sound, it is still 100% Spektor. She's not always
going to be the same, and she shouldn't be: great musicians never are.
As an artist, she must be given license to explore her creativity and
interests without being confined to the earlier sound that made her
famous. This album represents a bold new direction for Spektor, and only
she knows what she is going to surprise us with next. We say: so far,
so great!



.