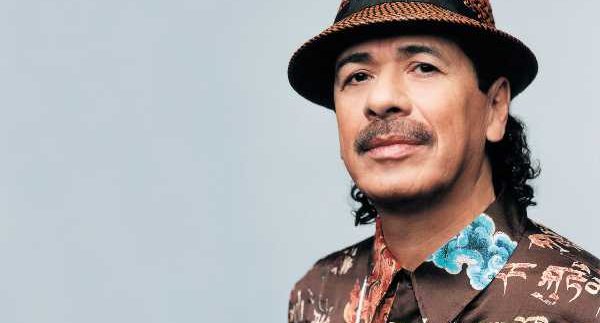 To many, Carlos Santana is a rock guitar legend. To others,
he's a sell-out. Rolling Stones Magazine ranked him at Nr.15 on their
list of the greatest guitarists of all time (with Jimi Hendrix at a
well-deserved Nr.1).
This
Mexican-American guitarist is largely credited as the pioneer of fusing rock
with salsa and jazz, and he has contributed several pop-rock standards, such as
'Oye Como Va' and 'Black Magic Woman.'
His eighteenth album, Guitar Heaven: The Greatest Guitar
Classics of All Time is a compilation of all the rock standards that should
have rock fans crying with joy, covering hits by legends such as Led Zeppelin,
The Beatles, Deep Purple and Jimi Hendrix.
Once again, Carlos Santana returns to the same formula that
brought him success with his 1999 album Supernatural (which included the
intensely overplayed 'Smooth' with Rob Thomas) by featuring trendy rock artists
in an attempt to stay relevant to today's listeners.
A guitar legend he may be, but
this reviewer finds Santana to be an exhibitionist. While other iconic guitar
soloists such as Jeff Beck, Steve Vai and Joe Satriani took the path of
instrumental rock, Santana relies on vocalists to make his songs meatier. Yet, on this album, his guitar dominates every
song, forcing vocalists such as Chester Bennington (on the quite awful cover of
the Doors' 'Riders on the Storm') and Gavin Rossdale to fade in the background, forcing one to question why he brought them on in the first place.
While 'Dance the Night Away' stays true to Van Halen's fun
spirit, his version of The Credence Clearwater Revival standard 'Fortunate Son'
is borderline offensive, where Creed singer Scott Strapp's fierce vocals struggle
to live up to John Fogerty's high bar.
Deep Purple's 'Smoke on the Water' has one of the most
iconic opening riffs in rock history. Again,
Jacoby Shaddix of Papa Roach simply can't compete with Deep Purple's Ian Gillan,
no matter how badass he tries to sound.
This is the essential problem of Guitar Heaven:
though the song choices are stellar, the young guest vocalists bring nothing
new to the table, nor do they come close to the originals. The sole exception
may be Chris Cornell, who gives an impressive imitation of Robert Plant on
'Whole Lotta Love.'
Our biggest issue is with Carlos Santana himself: for
someone considered to be a rock legend himself, he fails to tap into the
electric energy of his peers' music. Instead, all songs feature his exaggerated
wah-wahs and frantic guitar licks with barely any deviation from the originals.
Covering a Jimi Hendrix standard is a death wish for anyone
less capable, yet his cover of 'Little Wing' featuring Joe Cocker barely gets
by. Again, Santana doesn't stray too far from the original, but this time he plays
a more contained solo. His version of 'While My Guitar Gently Weeps' features
India.Arie's smooth voice, but the song's intro and cheesy pop tempo make this Beatles
classic sounds more like a Toni Braxton ballad; which George Harrison fans may find
unforgiveable .
If anything, this album may give you a newfound appreciation
for classic rock and have you running back to the originals.