Scissor Sisters: Night Work
Polydor Records (UK) Universal Records (US)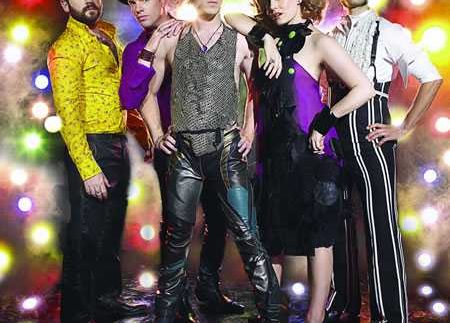 Hitting us with a sound that's a jumble of Bee Gees, Ace of
Bace, a woozy Kenny G. and hyperventilating Eagles, The Scissor Sisters' newest
album Night Work makes for some
arduous listening indeed.
We thought that the age of disco is behind us– unless it's
really, really fantastic disco, of course, which is a whole other story.
Over-the-top glitz and sleaze of disco nightlife seem to be Scissor Sisters'
founding concepts; but we're still waiting to see how a dated culture will be
made artistically relevant today.
'Any Which Way' has a frantic falsetto chorus that verges on
aged desperation; it tries to make up for lack of content with a hyper-paced synthesiser
beat of great speed, splashing some ghoulish laughter in between lyrics that
dwell on 'finding the perfect man/the perfect shade of bottled tan'– but its
panic-inducing pace just makes us hyperventilate and look around for the nylon
and sequins.
The title track is probably the most fun that this album
will give us; again, the speed is cranked up a little obsessively, the country
harmonies teeter on cringe-worthy, but the Sisters do seem to have some genuine
fun with the song.
'Whole New Way' takes a bit of a breather with a slower pace–
and it's only the second song on the album. As a whole, the album raises a few
questions, such as: are we supposed to take the Scissor Sisters literally or
figuratively? Is this song emotional or anatomical? Most likely, it is anatomical,
with a wicked emotional twinge.
'Something Like This' packs enough appreciative dance funk
into its three-minute running time to make us move a little, while 'Fire with
Fire' is entirely intolerable, recorded with exuberant pop conformities so thick and so flat; it's difficult to get
through– although this might have been an inspirational soundtrack somewhere in
the mid-1990s.
We miss the layers and creative outrageousness in past hits
such as 'Take Your Mama Out'. In fact, fans of the Sisters' previous pop-gem
work may find this album a sad indication that disco revival is well and truly
dead.
The band owes its 2000 beginnings to New York's alternative and
underground nightlife scene; for straight-laced listeners, maybe it's better
not to question the motives behind some of Night
Life's more suggestive tracks.
At moments, the bouncy disco synthesizers can feel a little
like a guilty pleasure, in between the manipulated vocals and enhanced
sexuality. The 70s-retro quality of scales, lyrics and images that the band
employs makes the Scissor Sisters old beyond their years – and not in the way
that we like. Still, if you're up for a good shimmy or a night on the town,
there's some satisfying new-age disco hidden in here somewhere.