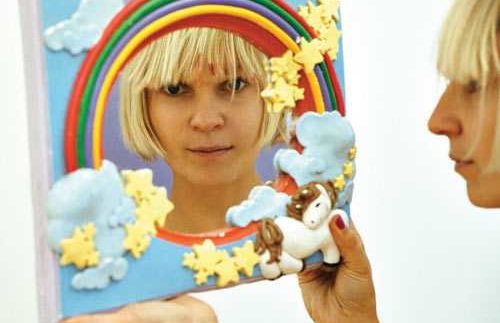 As
Alanis Morisette made a career out of furious-jilted-ex-boyfriend songs, Sia
made her mark on the music business with pensive melancholy. The 35-year old
Australian's vocals first made magic with ambient music duo Zero 7 on hits like
'In the Waiting Line' and 'Somersault'. Her solo career followed with Colour The Small One and the brilliant Some People Have Real Problems. Her
repertoire includes stellar tunes like 'Don't Let Me Down,' 'Soon We'll
Be Found' and 'Breathe Me', which became Sia's breakout hit and was featured on
the soundtracks of Garden State, Six Feet Under and Grey's Anatomy.
Despite
the impressive resumé, we've always had the feeling that Sia's vocals were
restrained, and we suspected that there's a lot more to this inspirational musician than
languid, depressive songs. Just watch
her live performance of 'Soon We Will Be Found' on the David
Letterman Show; and we defy you not to be blown away by her powerful
voice.
Finally, Sia lets loose on her new album We
Are Born, a compilation of fun, upbeat tracks filled with hand claps, pop
synthesisers and catchy melodies. The good news is that Sia is happy for once, and
singing her heart out about it. There's something positive and bubbly about the
singer's new sound, thanks to producer Greg Kurstin, who has worked with Lilly
Allen and Keane, and brings a heavier bass sound and funk rhythm to We Are Born, making it radio-friendly
material.
'Clap
Your Hands' is an irresistibly happy song, with sunny guitar riffs and
(obviously) hand claps to compliment Sia's throaty vocals. It has great dance-floor
potential, with excellent remixes by Diplo and Fred Falke out. 'Stop
Trying' features tambourines, more clapping and lyrics that chant: 'We like
you/ This is a Game Already Won/ Stop Trying,' a reminder to resist peer
pressure and to accept your individual personalities. 'Bring Night' and 'You've
Changed' are equally feel-good tunes that demonstrate the blossoming positivity
of this once-gloomy singer.
On
'The Fight', Sia sings joyously, 'We made it through the darkness to the light/ Uh huh we fought/ But still we won the fight.' It's an unfazed celebration of
life and a consolation to her former 'Don't Get Me Down' self; a reminder
that that there's a light at the end of the tunnel.
It's
hard to pin down a weak track on this accomplished album: although 'Hurting Me
Now' sounds a little whiny, it's still a pretty good song. Even her cover of
Madonna's 'Oh Father' works astonishingly well, and is a return to her
trademark melancholy. As sacrilegious as this may sound; her heartfelt version
is a step up from the Material Girl's original.
All
in all, We Are Born is good pop, the
kind that stays on your mind long after the bubbles fizzle out. Perhaps her
best and brightest album yet, Sia proves our personal theory that good things
come from Australia.