Sleigh Bells: Reign of Terror
Alternative & Indie

Pop

...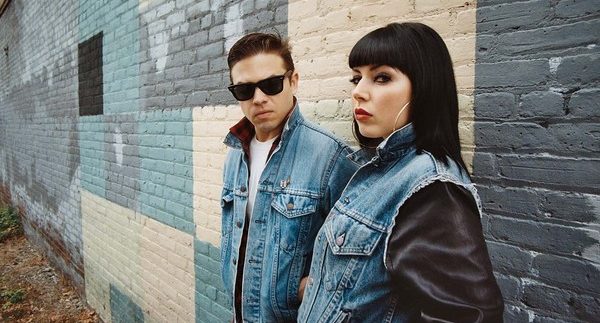 Officially labelled as a 'noise pop' band (a term that is so hopelessly encompassing that it is unequivocally
meaningless), Sleigh Bells emphatically struck cords with the indie community
last year with debut album Treats.
Like the cover art for said album- a slightly washed out photo of a posing
group of cheerleaders whose faces are scratched off- the music that Alexis
Krauss and Derek E. Miller produced was an unholy mix of big bouncy beats and
cute teen obnoxiousness. The duo's second album sports a photo of a worn and
dirty pair of white plimsoll sneakers with a splodge of blood acting as the
cherry on top.
Regardless of meaning, the image does sum
up the theme of Reign of Terror
nicely. Echoed guitars and echoed vocals give the album an enjoyable teen angst,
as if to say 'me and these shoes have gone through a lot'. The song titles in
themselves tell a story; 'Born to Lose', 'End of the Line' and 'Road to Hell'.
Even opening number 'True Shed Guitar'
plays to the dreamy sounds of a rabid crowd cheering Krauss's disjointed
vocals, like an 'I want to be a rock star when I'm older' fantasy. A few songs
in, 'Crush' is about a defiant teenage crush, while 'End of the Line' is the
first solid and distinctive change in sound. A flicker throughout the song
keeps it up-tempo, but the melody pushes it into a soulful shoegaze territory;
a sound that is carried through until we reach 'Demons' which, in very demonic fashion, takes the aforementioned
angst and blows it into full teen rebellion. In an even more demonic fashion,
the song's vocals, dare we say, aren't too far removed to the type of
shout-singing that has been the bane of recent pop music thanks to artistes
such as Ke$ha.
By far the strongest and
press-repeat-worthy song, 'Road to Hell' eradicates that last unfortunate comparison.
A simple mime-along chorus, simple air guitar drive and a finger-clicking,
head-swaying melody bring out the best in Krauss. 'You lost Me' is in the same
vein minus the trademark Sleigh Bells skewed beats while 'D.O.A's echoey and floaty
sound validates the ideas of shoegaze, dream pop, post-rock et al, in the chicest
of ways.
Reign
of Terror builds on the Sleigh Bells bandwagon by
cementing a much needed authenticity and sincerity. Gone have the full-of-beans beats -to an extent – and in their
place comes a much more honed-in sound that might be less spectacular, but is without
doubt much easier to digest.