Seven Four Entertainment/Republic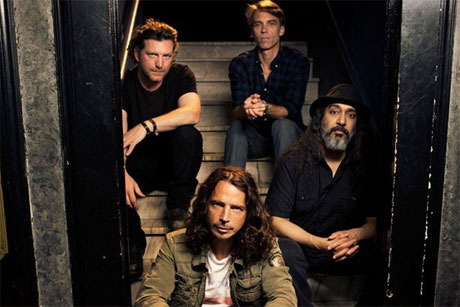 In the world of rock and roll, growing old with dignity is hard. Age slows us down and mellows us out and those two characteristics are not associated with the fast-paced and wild image that prevails of the rock music world. Very few manage to maintain a cool look when performing the songs they wrote when they were in their twenties and ever fewer can write equally good new material without sounding like sad copies of themselves.
Just ask Guns 'n Roses' Axl Rose or try and listen to any recent Korn album without cringing. Many bands quit (R.E.M., Sonic Youth), others tone down their sound (Metallica) and some keep regurgitating what they've been doing for decades (The Rolling Stones).
Grunge-rockers Soundgarden are a welcome exception to this rule despite taking a sixteen year break. With their new record,
King Animal
, they seem to have aged gracefully: they're not as loud as they used to be and not as chaotic as they once could be. Their years of experience in song writing, both individually and as a collective, makes for better, more well-thought out songs.
Kim Thayil's guitar traditionally wails around on the dissonant side of the spectrum and singer Chris Cornell still deals out high-pitched screeches like a rock version of Celine Dion – but they have audibly matured. And considering that the grunge kids of two decades ago have aged with them, many will appreciate this more grown-up, adult sound.
Soundgarden has a diverse catalogue. The differences between their five previous albums are stark, not only in production value but also in actual sound. Debut album,
Ultramega
, OK is very raw and punky, while its follow-up,
Louder than Love,
was aptly titled for its loudness and saw the band progress deeper into metal and ever faster guitars. They perfected their metal-ness on third album,
Badmotorfinger
, and added a firm dose of melancholy coupled with a more polished sound to create the mega-selling grunge-classic
Superunknown
. The final album before their sixteen year hiatus,
Down on the Upside
, saw the foursome almost completely abandon their metal roots and turn to Led Zeppelin for inspiration.
King Animal
is the logical conclusion of all of their previous albums. A slightly rawer version of 'Attrition' could easily have been on
Louder than Love
and the heavy riffs on 'Eyelid's Mouth' and first single 'Been Away Too Long' would have fitted any song on
Badmotorfinger
. Zeppelin resurfaces in the melancholic, meandering 'Bones of Birds' and the groovy mingling of acoustic and electric guitars on 'Black Saturday'. The hit potential of the extremely catchy chorus in 'Rowing' would have made it a great addition to
Superunknown
, while the guitar riffs on 'A Thousand Days Before This' and 'Blood on the Valley Floor' sound genetically related to that album's hit songs, 'Black Hole Sun' and 'Spoonman'.
After 52 minutes, one question remains: now that Soundgarden seems to have arrived at their definitive sound, will they become one of those established bands that don't evolve anymore? Like fellow Seattle-ites Pearl Jam, or grandfathers of rock Aerosmith, for example. Or will they continue to develop their sound, like Muse or Radiohead?
In any case, let's hope Soundgarden keep at it this time and lead singer Chris Cornell doesn't run off again on one of his solo-expeditions, trying to reinvent himself as a new Justin Timberlake or Bryan Adams. Or, God forbid, start another horrid 'super-band' like Audioslave. The world is certainly a better place without that.