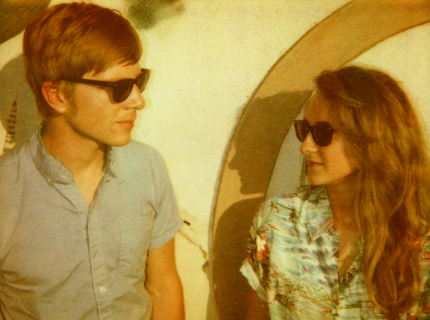 An almost accidental band, Alaina Moore and Patrick Riley – married couple and original
members of Tennis – found their knack for making music after taking a
seven-month long sailing trip that inspired them to keep record of it with
song. Last year's album Cape Dory caught
a lot of attention with its happy, distinct 60s pop sound infused with pure
indie motifs. Gaining popularity with the first album largely via the Internet,
Tennis' second album Young and Old
may not as easily be a hit.
The
band, made up of Moore (voice and keyboards), Riley (bass and guitar) and James
Barone (drums) collaborated with Patrick Carney of The Black Keys to produce
the second album. Though the overall sound is very similar to its predecessor, Young and Old certainly speaks the
effects of this newfound union as well.
Keeping
within the overall easy going, beach-pop sound that ensured their initial success,
the band's follow-up album is inlayed with a lot more texture and depth. Piano
chords played in a staccato style introduce 'Origins' with much the same effect
of the bluesy rock heard in The Black Keys' music. 'My Better Self' speaks a
similar language, contrasting well with the feather-like voice of Moore and the
background oohs and ahhs that could easily belong in a Californian daydream.
'Petition' carries the same weight in beat but is easily the furthest away from
their original sound. It is here that Moore's singing of the lyrics 'Misinform
the life all know/On my banner censor shows' is considerably cheesy and loses
everything we loved about this band to begin with; the song lacks the nostalgic
feel that their music tends to give through quickened beats and airy riffs and
is also missing the charm Moore usually carries.
The
light-hearted beats reminiscent of the Beach Boys which spoke much of the first
album's sound are relocated in 'Traveling' and 'Robin' along with the band's
lo-fi indie persona. Moore's declaration of 'There's nothing left for me' in
'Take Me to Heaven' is the most defeatist we've heard her– a song that is more
solemn yet equally representative of pop. The closing
track is pretty much more of the same, and that is essentially this album's
downfall – there isn't enough distinction between the songs, or even between it
and the previous album; it all ends up sounds like a big mush of doo wops and
60s pop beats, highlighted with Moore's girly voice – which of course isn't a
terrible thing, not at all. However, it feels like Tennis fell a bit short, as
the title of first track hints to us 'It All Feels The Same'.