The Black Keys: Turn Blue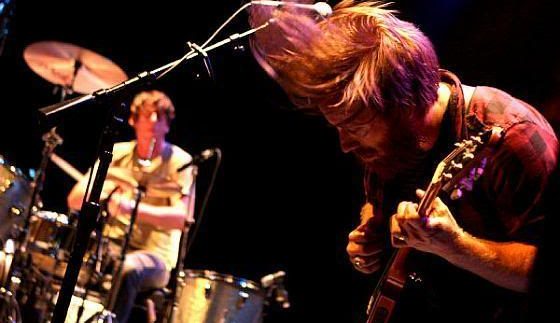 American blues rock duo, the Black Keys, released their eighth studio album in May of this year, backed by long-time collaborator and producer Brian "Danger Mouse" Burton.
Having debuted at number one on both US and UK charts, Turn Blue encapsulates a very broody feel and strong garage and prog-rock influences, shying away from the hook based style of El Camino and adopts a darker, rawer attitude with banging drums and Jimi Hendrix inspired guitar tones.
The album's first single, 'Fever', is a very mainstream in both its arrangement, choice of synthesizer sound and general feel of the song. The second single, 'Turn Blue', on the other hand, while fairly simple and following one solid structure throughout with Dan Auerbach's drone palm-muted strumming layered under small blues licks, it will definitely make your head bob.
The rest of the album goes on to demonstrate the evolution of the Black Keys; opening track, Weight of Love, has heavy progressive and psychedelic influences, subtle at first, but undeniable by the end. Next comes 'In Time', with a super catchy guitar line, a new high pitched vocal approach and heavy yet subtle bass synths.
The above is then contrasted against the gritty and raw 'It's Up to You Now' with banging drums from Patrick Carney and overdriven guitars and bass lines reminiscent of the rawness of Hendrix's tone, combined with a very noticeable Doors influence in syncopating vocal lines with snare fills.
On '10 lovers', the band pursues a different inspiration, placing a dance-ish bass line against a straight four drum line giving the song a slight disco groove, which is expanded on with the introduction of the synth line.
As the album progresses to the last two tracks, 'In Our Prime' and 'Gotta Get Away', you get a very different feel to the album. The former is much slower than the rest of the album, employs darker lyrics, a Hammond organ line and a pretty tasteful overdrive and wah-layered guitar solo reminiscent of early rock band guitarists like Joe Perry and Jimmy Page of Aerosmith and Led Zeppelin respectively.
The closing track, 'Gotta Get Away', is much more upbeat and goofy, showing the fun side of the same two friends jamming since they dropped out of college, ending the album on a positive note.
The overall diversity within Turn Blue is very interesting; while fans of the Black Keys from their earlier days might expect more lead guitar work, the Keys make up for it in song writing and experimentation. With so many of the mainstream bands and music groups producing music that is strictly radio friendly and less appealing to the more dedicated music fans, it's refreshing to see a band that can strike a balance between both.