The Chemical Brothers: Further
Freestyle Dust / Parlophone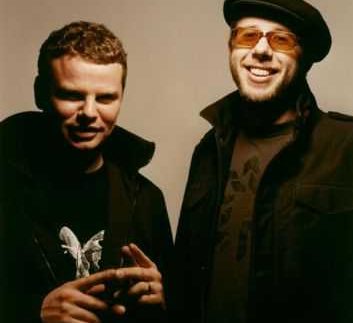 On Further , their seventh studio release, the
Chemical Brothers have tapped into their own brand of pensive eloquence. The brief
eight-track album takes listeners beyond audio: each of the songs is accompanied
by graphically enhanced videos, featuring British acress Romola Garai. Like
the sounds that they illustrate, the videos build on a central, evolving concept
rather than a linear message.
Notably, this is the first album that the
British electronica duo Tom Rowlands and Ed Simmons have produced without big-name vocal guests. Vocals are performed by Rowlands and singer Stephanie Dosen, who has worked with Massive Attack in the past. This makes Further a project of intense introspection, whose composite electro
audio quality waxes philosophical throughout.
The Chemical Brothers have returned to
their purist electronica roots to prove that they can create some real magic
using their own devices. You might think that this would simplify their sound;
but instead, the album portrays some unprecedented complexity: it takes some
serious focus and listening muscle to fully appreciate the sophistication of
the audio layers.
The album opens with 'Snow,' where an electronic
pulse is layered with Dosen's wispy vocals singing 'Your love keeps lifting me/Lifting
me higher'. The song revolves around a single, repeated statement. The sound
swells gradually, with drones, electric fuzz sound effects and multiplying vocal
harmonies.
'Another World' features accordion sounds and
a kick-drum beat. The track relies on a formulaic melancholy, stretched vocals and
busy audio layers. The nearly six-minute song crescendos dramatically, with intermittent
pulses of pulled-back silence, until it fades.
'Dissolve' features some classic rock rhythms,
and takes you through nearly five minutes of swelling instrumental melody
before the sparse, single-phrase lyrics chime in for a few beats. It could be
haunting if its underlying sentiment weren't so sunny.
Furthermore, some entirely instrumental tracks such as
'Escape Velocity' play out like the soundtrack to an early 90s Nintendo game.
Rowlands' and Simmons' quirky and sporadic
sense of humour is still intact; evidenced by the sound effects of
'Horsepower', in which a recording sample of a neighing of a horse is looped
over a nearly indecipherably altered voice. Heavy with electric effects and
off-kilter samples (keyboard, beeps, grinds and drones), the Chemical Brothers
shine again by producing something almost soulful out of otherwise synthetic-sounding
noise.
Further takes us on a brief journey of sound exploration; before we can
really decide if we like it, the eight-track line-up is over, leaving us
adjusting to the un-retouched noises of reality.
The Chemical Brothers still
possess their knack for manipulating sound and taking us places, but we can't
quite figure out where this one went. Maybe another listen will help us decide.