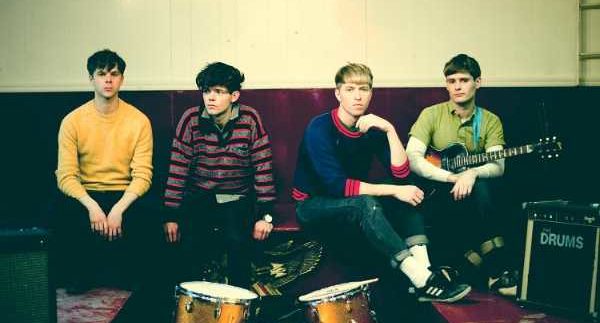 'We only write about two feelings,' reads
the band's online biography, 'One is the first day of summer when you and all
of your friends are standing on the edge of a cliff watching the sun set and
being overcome with all of your hopes and dreams at once. The other is when
you're walking alone in the rain and realise you will be alone forever.'
Brooklyn-based indie band The Drums have not
been members of the music world for long. Their eponymous debut album has been
highly anticipated since they formed in the fall of 2008, after which they went
on to become the hottest act in New
York with their own brand of cool indie-surfer
pop-rock.
Vocalist Jonathan Pierce, guitarist Jacob
Graham, second guitarist Adam Kessler and drummer Connor Hanwick look like a
cross between androgynous male models and garage band wannabe-rocker kids. Yet,
underneath the skinny jeans and indie haircuts are four well-expressed
musicians, two of whom had never played guitar before forming the band.
The Drums' sound is redolent of carefree 70s
and 80s rock, but fresh enough to inspire even the most seasoned indie ears. Every song on the twelve-track album is catchy,
radio- friendly, and could comfortably be a single. Once you've instinctively
sung along to the opener 'Best Friend', you'll immediately realise that
there's a lot more to them than the post-punk cliché that is so in vogue right
now.
On your second listen, you'll notice the
qualities of a sweet and tragic song; one that encapsulates exactly the two
feelings that the band claims to specialise in, without ever coming across as pretentious.
Other seemingly happy-go-lucky songs such
as 'Let's Go Surfing' and 'Forever and Ever Amen' build on the idea that if
bands such as The Smiths and New Order had moved to a Californian beach and
taken up surfing, they'd sound like this.
The only problem with a record like this is
that it's almost too cool. At stages, you realise that the album as a whole has
no soul, with its style-over-substance quality that translates into an ever-so-slight
feeling of repetitiveness.
Despite this, The Drums have presented the
first genuine holy union between pop and rock since The Beach Boys.