The New Pornographers: Together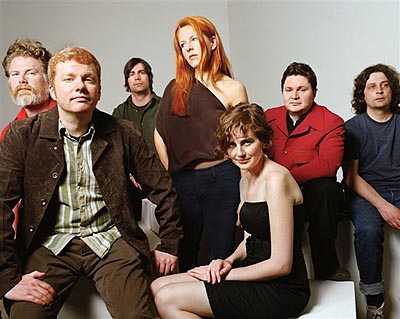 The New Pornographers didn't start out as a cohesive
band. Canadian musical veteran Carl Newman brought together some of his friends
from Vancouver 's
indie biosphere to record sleek pop songs that ended up in 2000's Mass Romantic.

The album felt more like
a mix-tape bonanza than a well-thought out record. The mix-tape vibe is not a
problem when every song is giddier than the next and fighting for your
attention; in fact, the erratic quality is what makes it work. Skip ten years
ahead, and The New Pornographers are pretty much back to where they started; a band
dedicated to the singular idea of crafting pure power pop with all the warmth
of a bear hug and the sweetness of honey.
The New Pornographers have no problem with visiting a
familiar territory on their latest album, Together,
hell, they even set up camp there; and that's what's so admirable about them. While
most bands will explore a new sound and misfire, the Pornographers are pretty
content with their place and deeply grateful for it. But there's something missing in Together.
The best thing about Together is that like the band, the album is extremely nice and
pleasant. Together starts very
promising with the ample sounding 'Moves', a sum up of the band's consequent
mindset where they proclaim that 'These things get louder'. Unfortunately
things don't; instead what follows is a series of songs that remind you of a
very pleasant day at the park.
In 'Crash Hands', singer-songwriter Neko Case shares
lead vocals with Dan Bejar and Newman. The rotation adds a layer of variety
that compliments the bands gleeful aesthetic. 'Silver Jenny Dollar,' about
being mesmerised by a girl performing on stage, finds the band at their best. 'A
Bite out Of My Bed' exerts the band's signature marching sound and adds some
very melodic overtones for a punch. The album folds with the intimate 'We End up
Together,' where the entire band leads join together to deliver one epic chant
that ends the album with a craved bang.
Together
is a very enjoyable albeit inconsequential listen. It will stay in rotation for
now, but whenever you feel the need for a New Pornographers fix, bypass it
altogether in favour of their 2005 power pop classic Twin Cinema.