The Roots: How I Got Over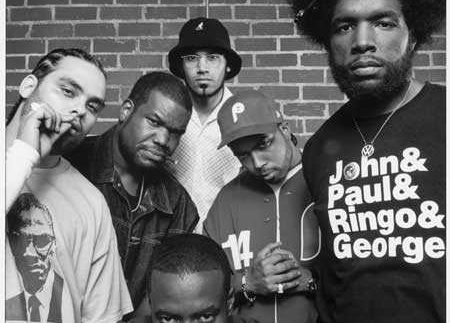 The Roots'
ninth studio album continues the Philadelphia-based band's down-to-earth, live hip-hop tradition. As their first recording after
landing a gig as the house band on Jimmy Fallon's Late Night show, the band has become one of the most recognized
hip hop outfits in the States. The album
showcases the band's genre-crossing abilities, bringing back some rough edges and melodic prose in equal measure. You would never tell from their rhymes that the
group's career is experiencing a prosperous upswing; filled with verses about recession,
global warming and loneliness, How I Got
Over is a work both timely and conscientious.
The Roots'
concise acoustic sound remains refreshing; like much of the sound they produce,
recordings maintain a live instrumental quality rather than the usual hip hop
banter of a studio multi-track mixer. Drummer ?uestlove drives the songs with
crisp high-hats and syncopation, vocalist Black Thought ties down a few tracks
with his grounding lyrics, while electric guitar and piano chords add a layer of jazz gospel. The lush sound disarms the apocalyptic themes explored in How I Got Over, which emanates hard-hitting criticism with all the enthusiasm of a musical joy ride.
The first
single 'Dear God 2.0' samples Monsters of Folk's 'Dear God', kicking the tempo
up a notch. This same vocal sample technique was employed in their hit 'The
Seed 2.0' where Black Thought laid rhymes over an almost unrecognizable
rendition of Cody Chesnutt's original number. 'Radio Daze' is another introspective
cut where Black Thought's frantic laments wash over swanky back-up vocals and
engrossing beats.
The album's guest
spots are heavily populated with indie-rockers. Newcomer Patty Crash croons
through 'The Day', which leads to 'Right On,' a track that samples the
high-pitched vocals of Joanna Newsome's insular song 'The Book of Right-On'.
The track replaces the original sway with a surprising burst of urgency.
Songs weave
into each other with coffee-house ease, and elements of smooth and melodic
choruses make How I Got Over an accessible
album, while still proving that The Roots are
capable musicians who don't settle for flashy glitter. Not nearly as
show-stopping as their 1999 Things Fall
Apart and not nearly as fragmented as parts of the 2002 Phrenology, How I Got Over marks a solid and well-balanced notch in The Roots' musical
repertoire.