Two Door Cinema Club: Beacon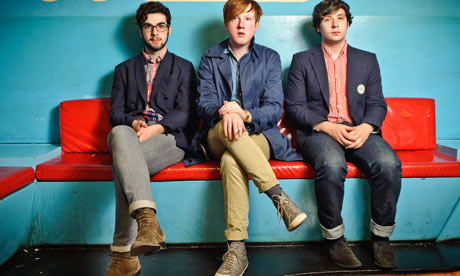 If you look up 'catchy' in the dictionary, there could just be a picture of the boys of Two Door Cinema Club next to it. The three members from Northern Ireland are a master of hooks and if there were a university of addictive beats and sing-along choruses, they would have graduated with top honours.
Their first album, Tourist History, is like an ecstasy pill to the ears. As soon as it's finished, you'll find your finger moving towards the play button, wanting to start it over. It's no wonder that on its promotional tour the young and fresh trio morphed numerous festival grounds and dance floors across the world into a mass of people collectively and ecstatically jumping up and down.
The thing about drugs, though, is that their feel-good effects are temporary. Their instant gratification leaves you standing empty-handed when the rush is over; the same is true for Two Door Cinema Club's music. As soon as their final beats grow silent, their songs instantly become a distant memory, only to be revived when you listen to their music again.
Two Door Cinema Club are back at it with their second effort, Beacon, and sadly the forty minute collection of new songs is very much a repeat performance. The biggest problem is that you won't notice a difference between the first and the second album.
If you shuffle the songs of both albums, it would be impossible to pinpoint which song belongs on what album. They are practically interchangeable. It's all upbeat, happy, sing-along-after-only-one-spin tunes, despite vocalist Alex Trimble's semi-philosophical teen angst lyrics; 'He needs no army where he's headed/'cause he knows that they're just ghosts', from 'Sleep Alone' is a prime example of this. Even worse, it is difficult to differentiate between songs in themselves, let alone what album they are on.
The fidgety guitars and energetic rhythms get to shine in the limelight of Beacon once again, but innovative musical ideas were definitely not a priority for these eleven new tracks.
Beacon starts off promisingly with an arrhythmic, stuttering beat followed by an abrupt a cappella vocal on album opener 'Next Year', but then reverts back to the old tricks of frantic guitar riffs and straightforward drums.
'The World is Watching' is another feeble attempt at breaking the typical Two Door Cinema mould with its sweet sounding female background choir, string section and guitar melody reminiscent of African music.
But that really is as exciting as its going to get. Overall, Two Door Cinema Club have failed to permanently satisfy, just like drugs eventually will.
In the tradition of Tourist History, the newer album, Beacon, is nothing more than a fleeting sugar high that's ultimately all what dance floor shakers and festival goers of this world need for a quick and easy fix.