Usher: Raymond Vs. Raymond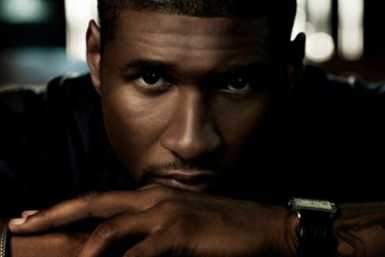 People deal with breakups differently. Some
join a gym, others drink themselves sick, while Usher decided to write an album
about girls calling him Daddy and letting him slap their backsides. Seriously?
Back in 2004, Usher was the number one
R&B artist with a number one album, Confessions,
a massive hit single 'Yeah' and dance moves so smooth and funky; he made Justin
Timberlake look like a whiny white boy with no rhythm.
Unfortunately, time has not been good to
Usher since then, as his career has taken a step back while his personal life
(and messy divorce) has played out through tabloids and gossip sites. Written
and produced over two years with some of the hottest names in the R&B
business (Producers RedOne and Jermaine Dupri, rappers T.I., Ludacris and Nicki
Minaj), Raymond Vs. Raymond seems to
suffer from a split personality. One minute Usher is lamenting the sorrows of
break-ups, the next minute he's boasting about how all the ladies want a piece of him.
Not only is the album confusing, it's also
tired. This is exactly the same formula that he used on Confessions, with the same themes of breakups, getting caught
cheating, and hitting up the clubs. How he has failed to evolve over the past
six years is baffling, especially since he was allegedly at the top of his
game. Now facing some fierce competition from a younger R&B generation
including Ne-Yo, Trey Songz and Drake, Usher needs to do more than flash his
toned abs every five seconds.
Raymond
Vs. Raymond has no hit the size of 'Yeah', instead
there's 'OMG' featuring Will.I.Am, a massive hit this summer. It's disappointing proof that Usher is playing it safe, with his
voice barely leaving the same monotone range throughout the song. The fact that he has to stoop to Paris-Hilton-vocabulary-levels
makes the former cool kid very un-cool.
Further proof of his lack of coolness is
'Hey Daddy', a song that urges all women out there to call him Daddy while
poking out their backsides. It's a tough one; we don't know if Usher is more
offensive than sad, or just both. If anything, the song is sleazy in that
creepy-uncle-way, not a good image for this former stud. 'There Goes My Baby'
starts off promisingly, before he starts whining about how he likes the way she
pokes it out, once again entering sleazy territory.
'Lil
Freak' featuring Nicki Minaj makes Usher sound more like Chris Brown, which is,
if you read the news, not a compliment. The song samples Stevie Wonder's
'Living for the City' so poorly that Wonder should sue for massacring such a
masterpiece. 'She Don't Know' featuring
Ludacris uses a brass band, oohing and screaming in the background, and a 'Yeah!' for a chorus, while 'Pro Lover'
jumps on the male misogynist bandwagon, claiming 'I'm not a player, I'm a pro'
and warning women against falling in love with him because he won't settle
down. Um, dude, you got married and had two kids.
'Foolin Around' and 'Guilty'
featuring T.I. basically continue Usher's whining streak that it's not his
fault he's so irresistible: 'I guess I'm guilty that women always show me
love.' 'Papers' may be the only mature moment on this quarter-life-crisis of an
album, where he sings about the sobering realities of divorce.
Although the album reached number one on
the US
charts, we suspect it has more to do with Usher's devilish grin and constantly
exposed abs than the actual music, which is sad really. This album just makes
Justin Timberlake look cool again, which is even sadder.