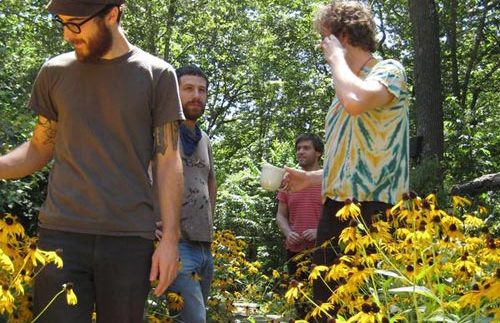 In a nutshell, Woods are, simply put, a great band. Not only have they, and their record label Woodsist, helped to cultivate the do-it-yourself Brooklyn indie scene that has maintained an important presence for the best part of the last decade, but they continue to set an example of what an indie band should do: make good music, consistently, continuously and without any semblance of self-importance or relevance.
Alongside their flourishing output, the sonic quality and texture of their sound is truly beautiful. Generally, it sounds like a mixture of protégé versions of Neil Young, Kurt Cobain and Brian Wilson prolifically jamming together and throwing the best results onto albums. In other words; sunshine folk rock delivered in a grimy manner.
At first listen, Jeremy Earl's falsetto vocals will instantly be the peculiar draw. The songs are also always backed by deceptively simple but strong melodies that never refuse an opportunity to stray off into experimental jams. Earl is the primary songwriter, but in execution, Woods is a tried and true equal-contribution rock band.
Though they started off as a completely stream-of-conscious DIY band, recording their melodic tunes often on first take, whilst simultaneously screwing with them by means of effects master G. Lucas Crane's genius grungy affectations (which can be heard on their 2009 breakthrough song 'Rain On'), they have now, on Bend Beyond, taken a slightly different approach.
In their own words, they have opted to let their songs marinate a little longer, leaving more time between the writing and recording processes. They have also decided to produce their sound in a more 'pop friendly' manner, which basically means losing much of Crane's distorting contribution. Though many early fans may feel they've sold off their unique mystique, the beauty of their songs will now likely appeal to a well-overdue non-indie audience.
For first timers, songs from Bend Beyond like 'Is It Honest?" and 'Size Meets the Sound' clearly exhibit a fantastic pop sensibility that previously may have eluded unrelenting music chasers.
On Bend Beyond, it seems they've attempted to consciously make it clear for all to hear; and as the aforementioned track 'Is It Honest?' suggests lyrically: "As nice as it sounds, is it honest?…It's so fucking hard to see." The lyric could symbolise how in everyday life it's confusing to tell what's true and what isn't; but simultaneously, considering their newly produced sounds and Woods' history of clever, sardonic lyrics, it may also symbolise how deteriorated the ears of modern production-loving listeners have become.
It's a statement that lends to the idea that most people no longer understand what instruments really sound like, due to a sensationalised, industry-forced, love of over-produced 'music' – which generally sounds nothing like earth-born acoustics.
But Woods don't, and never have, seemingly, cared to desperately appeal to such productions for the sake of money. However, they now seem to want to try to experiment a little bit with their sonic quality, having already produced so many great albums, both for themselves, and for dozens of indie bands through their Woodsist label.
Looking at their fabulous back catalogue of albums like Songs of Shame and At Echo Lake, they've always sought to revive a forgotten tradition of what music used to be: a way out, but also, a journal of zeitgeist and artistic integrity.
Nonetheless, pop music pontification aside, Bend Beyond, provides twelve beautifully recorded and executed 'semi-lo-fi' folk pop songs for average listeners to enjoy.