Xiu Xiu: Angel Guts: Red Classroom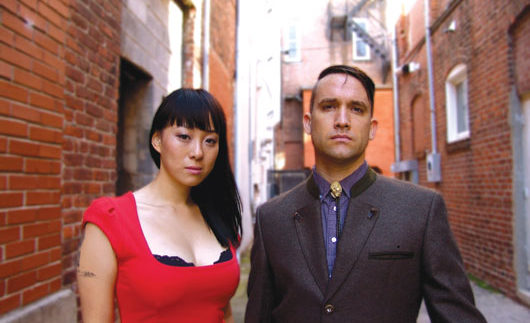 Angel Guts: Red Classroom marks the ninth studio album of American, avant-garde and artsy rock band, Xiu Xiu, and the group's sixth since parting ways with long-time producer and ex-member, Cory McCulloch.
Based on founder and vocalist Jamie Stewart's experiences since moving from his home state of North Carolina to a slum in Los Angeles, Angel Guts: Red Classroom is dripping with what music review site 'Tiny Mix Tapes' described as, "the sound of Xiu Xiu's death".
Named after an erotic Japanese film of the same name, Angel Guts: Red Classroom is a portrayal of graphic subject matter laced with the typical, Xiu Xiu-styled self-loathing. Mixed using only three instruments – drum machines, analogue synthesizers, and a drum set – the album takes a more minimalistic approach than the band's previous releases. This bare style adds to the suffocating sense of despair encroached into every track.
Opening track, 'Angel Guts', is a three minute long, digital stream of distorted white noise and faint waves of gothic-esque chimes and gongs. While not entirely impressive, the appeal of Xiu Xiu has always been their ability to awake dormant emotions from listeners with electronic sounds along with the muffled wails of front-man, Justin Stewart. Completely erratic at times, Stewart's vocals range from quiet whispers to adolescent cries of angst.
The lyrics are kept abstract and completely vague in meaning, leaving the listener to create personal interpretations to accompany the haunting, yet ethereal, music. With 14 tracks with an average length of two minutes, the instruments and sounds are incredibly repetitive with only slight variations of tempo breaking up the monotony.
Although the majority of the tracks follow this formula, songs such as, 'Adult Friends' and 'Stupid in the Dark' are some of the most fascinating tracks that Xiu Xiu has produced to date. Completely original in idea and execution, even the vocals manage to carry a certain weight behind every word sung.
While Xiu Xiu remains to continue being too inaccessible for most mainstream-oriented listeners, Angel Guts: Red Classroom is one album that should be listened to if only for the sake of an unforgettable, gruelling experience.