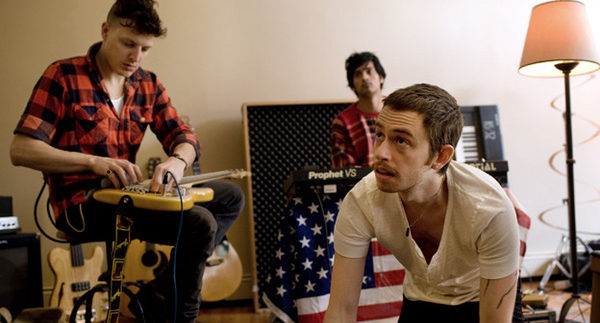 Note to all musicians: never feed music journalists' expectations of what your highly anticipated new album is going to sound like. If the end result doesn't give them exactly what you promised, you'll pay for it dearly. Point in case: Fragrant World, the latest effort by American indie rockers, Yeasayer. The band teased the music press with their ambition to create a 'demented R&B' record, and the end result is getting panned for not delivering on that promise. Fragrant World can be called a lot of things, but 'demented R&B' is certainly not one of them.
After the release of their second album Odd Blood, Yeasayer were unanimously crowned the new kings of the independent music world. The album was fresh, daring, creative, adventurous and unpredictable. It was pretty much every hipster's wet dream come to life in ten songs. Yeasayer single-handedly recreated 80's music to what it would sound like in the 21st century.
Needless to say, Odd Blood was an album that would be difficult to match, let alone surpass, and expectations for its successor were sky high. The first track released from Fragrant World, 'Henrietta', got a lukewarm response, beginning with an upbeat disco tune that gets overpowered by melancholic undertones. It's an ok song, but nothing we haven't heard from Brooklyn bands before.
The first official single 'Longevity' is a much slower song, structured on a hip hop shuffle, interrupted by a wailing synth and distorted strings; but again, nothing mind blowing.
Odd Blood was already a big step away from the psychedelic sounds of their debut album All Hour Cymbals; now Yeasayer seem to have completely traded in the guitars for a set of vintage synthesizers, which makes Fragrant World sound darker, almost gloomier, than its predecessor – especially on the aforementioned song 'Henrietta', the track 'Demon Road' and album closers 'Folk Hero Schtick' and 'Glass Of The Microscope'.
Most songs lack hooks and many parts of Fragrant World sound forced and artificial, to genuinely surprise. The unpredictable outbursts, bordering on sheer musical genius, which were prevalent in Odd Blood, are sorely missed. Fragrant World almost sounds like a step back, or rather a collection of B-sides that never made it onto Odd Blood. It's as if Fragrant World should have been the second album and Odd Blood the logical progression after it.
Had this actually been Yeasayer's second album, all would have been fine. This is the downfall of a band trying to follow-up a flawless album. Ask Radiohead or Pearl Jam, they know all about it. It's like having a Mars bar after devouring a piece of the finest Swiss chocolate; it's certainly not bad, but it pales in comparison to what you had before.
Knowing what Yeasayer are musically capable of, this record unfortunately leaves the listener feeling that something smells a little off in their fragrant world; it will not turn the naysayers into yeasayers.