Absolute: Still in Style on the Dancefloor?
Inside Al Shagara Casino, In Front Of Conrad Hotel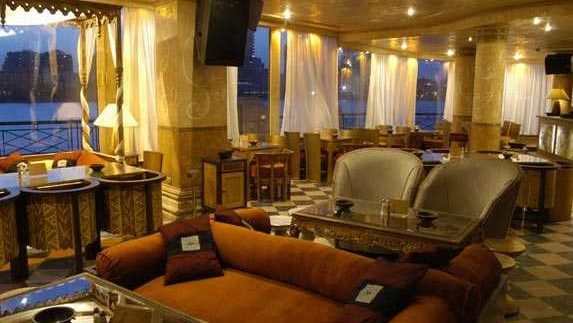 Absolute is one half of the Casino El Shagara located on the Maspero Corniche. The other half is the more dining-oriented Sangria that occupies the garden and upper level of the establishment. In spite of the warm hues and cosy, nearly rustic feel, the crowds I've seen flock to this lounge seem to head straight to the bar and party hard. This means waiters have to divide their attention between keeping customer skirmishes in check and providing service, which admittedly is not the best. For this very same reason, reservations are strongly encouraged, so the intimidating army of black-clothed bouncers who scrutinise you upon arrival have no reason to not let you in.

Offering a substantial dance floor view of the Nile from its waterside location, Absolute has become somewhat of a staple of Cairene nightlife. While I've heard tales of the glory days, the glitzy crowd, the freshest DJ's and the guarantee of a night to remember, my experiences indicate that this haunt has already had its last hurrah.

After all, it is hard to stay the life of the party for long in Cairo, and what a life Absolute has had: from classy evening lounge to its current state of disarray, this former hot spot may no longer be the place to see and be seen, although it still has its fair share of celebrity sightings.

While the minimum charge per person is 150LE, you do get to spend it fast as the drinks are on the pricey side. For those who aren't there for the bar, however, the food deserves no rave reviews, so I suggest you go on a quieter evening when minimum charges don't apply and lounging around to enjoy the Nile view is more the fashion.

This club/bar/lounge definitely deserves a visit at least once, if for nothing else to get a taste of the mix of old fashioned parlor and neighbourhood pub. Some of the most fun I've had here has been inspired by the crowd, which tends to be as eclectic as the setting itself. This is a fun place to throw caution to the wind and really let loose on the dance floor as long as you're in the company of a group of good friends.