After Eight: Smoky Downtown Nightclub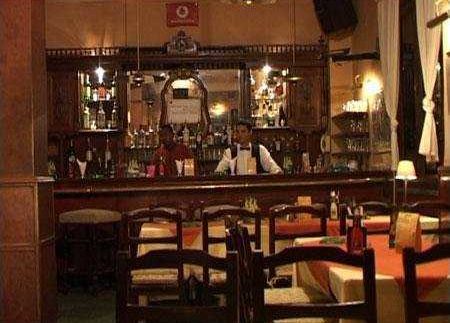 Hidden away in a dark alleyway on Kasr El Nil Street is After Eight, one of Cairo's most iconic nightclubs.
As with all nightclubs in Cairo,
both the atmosphere and crowd in After Eight can range greatly from a
respectable, lively bunch to a rather questionable and unbearable mob.
After
Eight is most definitely one of those establishments that you either love or
hate, depending on your style and taste for a good night out. The
nightclub's location is anything but welcoming; as its dark and dreary entrance
leaves you wondering if you're entering a nightclub or a dungeon. The front-door
bouncers are sure to let you know if your group qualifies as After Eight
material or not, and they usually only accept couples. Ironically enough, one may quickly realise upon entering that the
male-to-female ratio that is presumably taken care of at the door is not
necessarily true of the clientele inside.
Pushing
your way through the entrance alone can be a feat; so good luck trying to
actually find a space to sit; much less order a drink. Beers start around 20LE.
Our vodka tonic (around 80LE) tasted heavily of tonic with the vodka being
nowhere to be found. However, they do have a decent selection of wine and
spirits. The club imposes a 100LE-minimum
charge on most days of the week: even if you just pop in to say hi to a friend,
rest assured that some waiter has made a note and your friend will have to
pay for your appearance.
Inside
the nightclub, the dark walls and heavy hung curtains lead you to the bar and
dance floor. Knowing what you will encounter inside may be a mystery, if
mysteries are exciting to you. We have a sneaking suspicion, stemming from the
dungeon-like atmosphere, that goblins and ghouls may reside there after-hours.
While
they boast an extensive menu of food and drink options, most patrons come here
for what seems to be the dancing. If you happen to be going with a group, we
advise you to most definitely make a reservation. Tables and chairs surround
the tiny dance floor, where it's seemingly impossible to get your groove on
because it's always crowded!
Iconic
local group Wust El Balad used to play regularly at After Eight before they
made it big; and they still play every Monday to a packed room. Check out the
club's facebook group for its weekly schedule, which includes performances by Sahara , Bashir and Salalem. A karaoke night is held every Saturday.