Ambassador Club: Paradise Found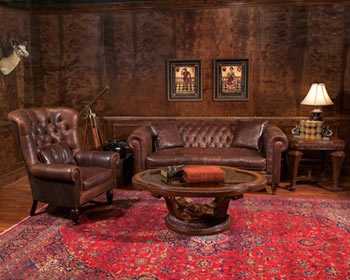 The name Semiramis evokes an instant feeling of
grandeur. The Nile-side hotel reminds us of images of elegance and the glory
days of yesteryear. With many of today's Cairene hotspots trying so desperately
to be trendy, true sophistication seems all but lost. The Intercontinental Cairo Semiramis in
Garden City has not forgotten that grace never goes out of style, and this
point is proven at the Ambassador Club.
Located above the hotel's breathtaking lobby, the stately
second-floor lounge is truly a cut above the rest. A dark wooden bar spans the length of the
left wall and overlooks the softly lit space. Deep green walls are appointed with black and white images displaying
the hotel's history. A grand piano rests in the far corner, though on the night
of this reviewer's visit, mellow lounge music provided an easy, melodic
backdrop. Mahogany-hued leather couches and arm chairs are positioned around
glass-topped coffee tables for a setting of relaxed intimacy, which is perfect
for a romantic nightcap or quiet business deal celebration.
The drink menu was simple and straight-forward. The mixed
drinks are creative but not-overly-ambitious takes on classic concoctions. A
selection of fresh juices (22 LE) is available, and several virgin cocktails
are offered for a slightly higher price. Upon hearing that hot drinks are not
available at the Ambassador Club, we opted for a Jack Daniels on the rocks (55
LE) in lieu of an Irish coffee, and decided to test the bartender's hand at
mixing an Absolut dry martini (60 LE).
When the generous drinks arrived at our table a moment
later, they were accompanied by two small plates. One held potato chips, the
other found a heaping portion of sea-salted, dry roasted peanuts. This extra
touch of attentiveness allowed us to enjoy satisfying nibbles alongside our
drinks without venturing to the food menu, which featured several enticing
though pricey pub options such as a burger (75 LE) and fish and chips (75 LE).
Thoroughly impressed by the standard of care we were
given, we clinked our glasses together and took the first sip. The server lingered just long enough to ask
if everything was to our liking. There was no complaint to be filed. The drinks were ice-cold, mixed properly and–
rare for Cairo–
not the least bit watered-down. There was nothing left to do but sit back, sip
slowly and sigh with content.