Amici: Trendy Nightspot Prevails a Year Later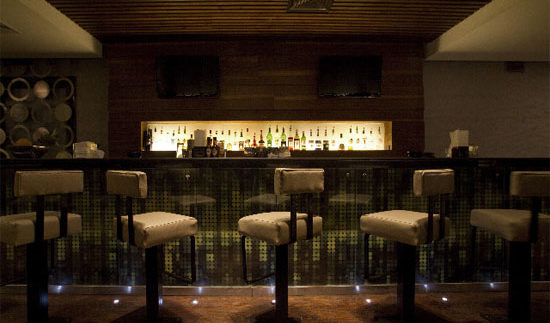 More than a year since its opening and
Amici is still very much a hotspot on the Cairo nightlife scene, an indication
of its consistency in quality and ambience. This popular bar on Zamalek's Taha
Hussein Street is the number one cause of traffic congestion on the small road on almost every day of the week, with the young and trendy filling up the bar
late into the night. Amici is a great way to start off a long night of partying at,
or to meet for a bite and drink with your trendy friends. The emphasis is
definitely on trendy: this is the kind of bar that you dress up for in your best
jeans and leather jacket; as you're bound to mingle with the 'It' crowd.
Leather jackets aside, Amici is a decent
option even if the bar is empty and you couldn't care less about trendy people.
The bar's forte is its expertly mixed and creatively named cocktails and
shooters, including stand out names like the horreya cocktail ('made for
Egyptians by Egyptians'), f**ked up, sex on the pyramids, man antom?! and many
more. Cocktails range between 40LE and 60LE, and the menu includes the standard list of
beers, wines, aperitifs and champagnes.
This reviewer's favourite has always been
the excessively girly but delicious kiss-me-tini (45LE), a cocktail of
strawberry cream with vodka and chocolate sprinkles. It tastes just like
strawberry ice cream; but with an evil twist. One year later, we were impressed
to note that the cocktail has the same flavour, quality and serving portion as
it did in 2010; a feat that few other Cairo bars manage to pull off in the long
term.
Equally tasty was the amalfi coast sour (45LE),
a light cocktail with a crushed pepper topping that contrasted nicely with the
tangy flavour. If you prefer something heavier on the liquor, you can always
try the whiskey mixed with fresh cinnamon and mint.
Amici has imposed an irritating 200LE
minimum charge per person, which prevents you from stopping by for a quick
drink, and so we decided to eat our money's worth. The creamy chicken soup
(25LE) definitely didn't live up to the expectations conjured by the menu's
promising description. It was your basic, bland chicken soup found at generic
restaurants.
The Amici salad (35LE) fared better with
its creamy pesto sauce covering slices of beef and chicken with shredded bell peppers in the centre, though to be honest its flavour was forgettable and overshadowed by too much seasoning. The tiger shrimp konafa portions (50LE) were excellent; served steaming
hot, the shrimp were wrapped in fried konaf but a little difficult to remove off the sticks that they came on. Nonetheless, they make for a light bite and work nicely with the spicy sweet sauce on the side. The mussels a la
crème (40LE) were supposedly cooked in white wine, but we could only discern
the garlic, although the mussels' meat was chewy and well-cooked without being
too dry. We also recommend the pizzas and
the smoked salmon.
Based on our experience at Amici, we
predict another good year ahead for this popular spot, which keeps changing up the
game with new cocktails, occasional DJ nights, regular karaoke nights and a
consistent influx of young and, yes, trendy Cairenes.