Amici: Tropical Cocktails in Heliopolis
100 El Hegaz St, Hotel Heliopark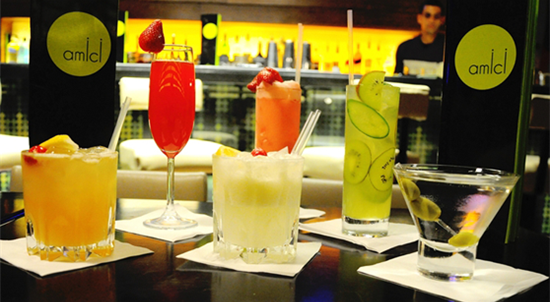 Rivalling its sister bar in Zamalek, Amici Heliopolis presents a different, slightly more sophisticated vibe for the weekend.
We strolled through the unimposing, bland entrance on El Hegaz Street and were surprised – and a little disappointed – about the apparent lack of dance floor, suggesting that this Amici is more about civilised eating, drinking and socialising rather than serious partying. This impression was reflected amongst the crowd and the place seems to attract a mature, affluent and fashion conscious bunch of people.
Amici is split into two average sized areas; an indoors section with an long bar, and a covered outdoor section, resembling a conservatory. Both areas are stylish and elegant, with dark walls and square pillars, dimly lit by unusual beaded chandeliers and separated by a large glass wall to create the illusion of continuance and space.
We opted to sit in the outdoors area; not only was it warmer but it was slightly less crowded. Curiously, there was a shiny, Amici Vespa parked in the middle of the dining area which kick-started some lively chit chat amongst our group.
With a 200LE minimum spend, we prepared ourselves for a feast and apprehensively opened the menus.
The front page of the drinks menu lends itself to a short introduction, promoting their famous, masterfully mixed cocktails, prepared with the freshest ingredients. A warning regarding drinking is also included – Amici uses 'larger than usual' measures of alcohol in their drinks, so although the prices might be steeper than usual, the likelihood is that you'll need to buy less than in the average bar if you're looking to get merry.
If not, along with a large list of alcoholic drinks, they also serve a range of non-alcoholic cocktails so you don't have to miss out on anything exotic.
After passing around one menu between us, we eventually chose our cocktails; one Amaretto sour (50LE), a pink panther (45LE), a piña colada (50LE) and two juice blends; fresh mint lemonade (30LE) and a vanilla berry (30LE).
Most of these were repeated a couple of times throughout the evening, excluding the Amaretto sour which, although it had a smooth, almond foundation, was slightly too sharp for our taste because of the lemon and orange juice – doubtlessly the wrong choice for someone who prefers sweet to sour. The pink panther was better due to the sweet, fresh strawberry and banana mix but still had a strong, bitter kick from the vodka and lemon.
The piña colada, however, was a work of art with the perfect pineapple bite, creamy coconut milk and real coconut shavings. The non-alcoholic cocktails were also delicious, fresh and fruity, despite having excessive amounts of crushed ice.
We mulled over the choices of food, mainly small, tasty sounding dishes made from a range of red meat, chicken and seafood. Amici also boasts a vast sushi menu, with the choice of three, four or five piece servings, the most expensive costing 45LE. A discount is offered with a set selection of 14 pieces for 110LE-125LE, depending on what is ordered.
Leaving the sushi for another night, we ordered a selection of appetisers; crispy shrimp and basil spring rolls (42LE), which were crunchy and fresh, with the added basil making a nice change from standard spring rolls. The shrimp konafa (62LE) was everybody's favourite, complete with a sweet chilli sauce.
We were let down by the beef teriyaki (80LE) which was particularly expensive for two, chewy, peppered beef steaks. One thing that should be noted, however, is that the kitchen shuts at 12.30AM – we'll keep that in mind for next time.
We felt a little over-dressed in our short skirts and heels ready to boogie but found ourselves content with the amiable atmosphere and we have to admit, the cocktails were pretty damn good – especially compared to others we've tried around Cairo.