Andrea: Nile-Side Sohour on the Maadi Corniche
Aboard the Memphis Boat, Maadi Corniche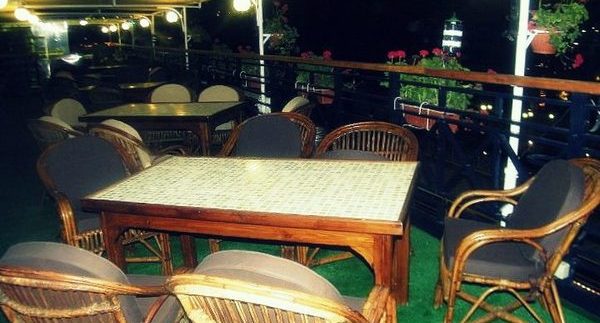 As one of
the most famous names on Cairo's dining scene, big things are always expected
this time of year from Andrea. In Maadi, the tourist-friendly restaurant's
Nile-side branch offers Cairene's fetar and sohour options.
With the
perfect setting of the neat and quiet Maadi Corniche, sohour is a logical
option for a relaxing evening by the Nile. Plus, with a 40LE minimum in place
from Sunday till Wednesday (a 70LE minimum is enforced on Thursday, Friday and
Saturday), Andrea is one of the few places that won't commit you to a
three-figure minimum or set menu – perfect for light eaters.
Usual
service sees the boat embark on a two-hour trip through the Nile, but the
staggered arrival of those looking to fill up before the next day's fasting
eliminates this, Andrea's only redeeming quality.
Mostly
populated with basic wooden tables and wicker chairs, the top deck on which
Andrea is located is 'balady' in every sense; basic, Egyptian and more
practical than it is aesthetically pleasing.
The menu
includes everything you'd expect with few surprises. Overall, it's a mixed bag.
The chicken liver (25.90LE), for example, was dry and tough, whereas the
falafel (7.90LE) was fantastic; hot, fresh and full of flavour, it had that
perfect combination of crunchy outer shell and smooth, soft centre. The foul (9.90LE)
was equally as impressive in its perfectly smooth, dare we say, velvety texture
and hint of tehina.
The stuffed
vine leaves (23.90LE) were stringy with little taste coming from the rice,
whereas the mombar (18.90LE) – rice-stuffed intestines, yum – was one of the
highlights. Fearing the casing might be chewy as can be the case, all
presumptions were blown away with a dish that was light, perfectly cooked and
had a surprising kick of chilli.
The classic
Egyptian side of pickled eggplant (7.90LE) was equally impressive, filled and
seasoned with garlic, vinegar and green pepper. For a decidedly less Egyptian
choice, Andrea's crepes aren't half bad. Also available with sea food (24.90LE),
chicken (20.90LE) and mushrooms (17.90LE), the cheese lover's crepe (18.90LE)
is perfect to fill up on; thick-layered pancakes encase hot, gooey cheese.
Drinks
wise, Andrea offers classic such as tamr hendy (9.90LE), kamar el din (12.90LE)
and karakdeh (9.90LE). Although they all tasted pleasingly homemade, they were
loaded with obscene amounts of sugar.
The most
important piece of advice we can pass upon to you is to specify your order,
maybe three or four times – especially if dining in a big group. We were
brought more dishes than we asked for and had to fight it out with the manager
before settling the bill.