Bar D'O: A Little Taste of New York in Zamalek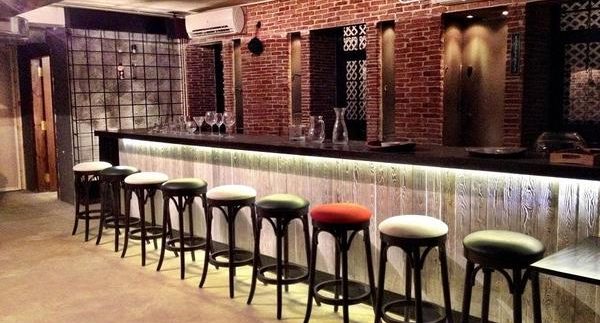 Newly
opened Bar D'O is located inside the President Hotel, underneath the cocktail
haven that is Amici. The name has already become the butt of many a joke. For
instance, run the name through Google and you'll end up with a video of a New
York drag queen show. Plus, some Cairene's have event taken to pronouncing it like
the word 'bardo' – meaning 'also'. However, step inside and you'll find
pictures of Brigitte Bardot on a chalkboard-menu and everything begins to make
sense.
The bar
is inspired by the Meatpacking District in New York and is designed using a
distinct warehouse style. Red brick walls, exposed piping and minimal
decoration are the main aesthetic features.
The menu at Bar D'O is still under development so for the time being the
chalkboard is where you can browse your options.
Bar D'O
offers a variety of cocktails such as sangrias, mojitos and bellinis which are
all served in jugs and jars; adding a twist to their presentation. Although all
cocktails are 90LE, the jars are almost 700ml. The mojito served at Bar D'O
might be one of the best we've had in Cairo. It had the perfect combination of
sweetness and mint. However, the drink could have used another shot of rum.
In
keeping to the theme, they also offer the New Yorker cocktail which is a mix of
whiskey, Red Bull, orange and cranberry juices. Even non-whiskey fans would
devour this drink within five minutes. The New Yorker tastes sweet with a hint
of sourness coming through every now and then. However, once again the alcohol
was a bit lost.
The Long
Tail cocktail is a concoction of tequila, cranberry juice and orange zest.
Where the other cocktails lacked in alcohol this one had it in abundance. In
fact, it was too strong to drink and it was only after the ice melted that we
were able to work it down.
Bar D'O
also has a food menu with lots of options. The shrimps with olive and lemon
(70LE) make for a perfect little snack. Beware of the shrimp though as they are
drenched in oil will drip everywhere if you're not careful- especially when you're
tipsy.
We found
the staff to be very pleasant and attentive; our drinks and food were served
fast and the staff had sufficient knowledge of their menu – which is a rarity
in Cairo. We definitely see ourselves returning to Bar D'O for afternoon
drinks and snacks.