Barten: Simple Yet Funky Bar in El Gouna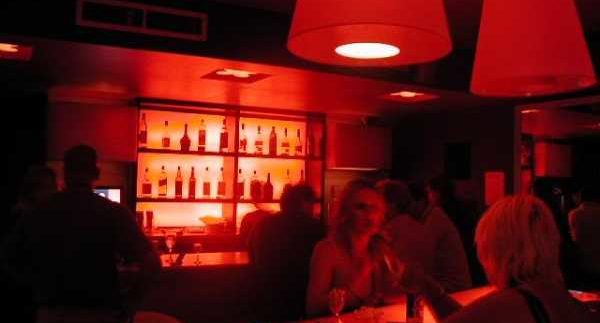 If you happen to be in El Gouna and would like
a well-made cocktail in a simple yet funky atmosphere, check out Barten in the
Abu Tig Marina.
Located on the marina between CIB and
French restaurant Le Deauville, Barten is a teeny-tiny bar that could
comfortably fit ten people, thirty if you don't mind squeezing. A long rectangular Plexiglas high-table is
set in the centre of the room and takes four people, while a large silver framed mirror lines the right side of the room next to another high table to
rest your drink on.
You'll probably find yourself gravitating
towards the bar and its white stools. The bar wall is attractively
lined with liqueur bottles of all shapes and flavours. What makes Barten
distinct is the overall red glow that emanates from the wall lighting and the
two large red and shaded ceiling lamps. Anyone that has been to Barten would
probably sum it up in one word: red.
Get used to the low lighting and perhaps
fix your eyes on the small LCD screen behind the bar, which may be showing some
kite surfing videos; a passion of Italian bartender Erika's. Just like the bar
itself, Erika is young, fun and easy to warm up to. Just don't get on her bad
side; give the woman attitude and she will keep you waiting for your
drink for a long time while chatting charmingly with another patron. Word of advice: be nice.
Barten's menu is simple and moderately
priced. Sodas cost 15LE, martinis cost 50LE and cocktails
average between 40LE and 50LE. We would recommend the amaretto sour for 40LE, a refreshing cocktail of Campari
with vermouth red and soda or the
blue margarita, which features tequila, blue Curacao and lemon juice (50LE). Regulars' favourites include the daiquiri
(60LE) and sex on the beach (50LE) which is fruity and not too powerful, a
perfect summer cocktail after a long day at the beach.
With
El Gouna's prices ranging between moderately high and seriously high, Barten is
a refreshing and safe option when you plan to have a couple of drinks
without getting stuck with a preposterous bill and have to sell your watch or
wash dishes in their kitchen.
The bar usually plays ambient music in the
early evening, but the pace picks up as the night continues. It is a
perfect spot for a post-dinner drink or a stop before heading out for a night
of dancing at Papa's Island or Angels. Try to hit the bar before eleven on a
weekend night since the space tends to get so crowded, that patrons and
their drinks will spill out onto the bar's front steps.