Bellini Cocktail Lounge: Salsa Night at Intercontinental Citystars
Intercontinental Citystars Cairo Hotel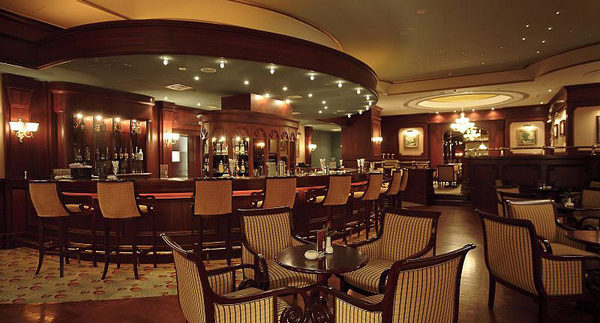 Restaurants or bars located in hotels tend to bring higher expectations than those located on the streets of Cairo. Maybe it's the fact that tourists often frequent them or maybe it's due to the refined mood of hotels that tends to makes these places so special.
Bellini Cocktail Lounge on the lobby level of Intercontinental Citystars is a sophisticated, chic lounge with only candles and a few classic chandeliers for lighting. The bar opens at noon noon and is mostly suitable for a quick afternoon bite or for an evening out.
The lounge's layout is divided into one side suitable for couples or small groups and another side for larger groups. Both areas are furnished with comfortable beige and wine-red sofas and fauteuils. In the centre of the space, and right in front of the bar, is a significantly sized dance floor where every so often they host dance nights, and we were lucky to have visited one with salsa dancing.
At 9PM the music was turned up and out of nowhere the stage area became filled of couples swinging to the tunes. It was entertaining and had everyone dancing, even the ones who stayed in their seats.
While we were enjoying the dancing, a waiter brought us what we thought was a complimentary platter of nuts, crackers, carrots and cucumbers. By the third obligatory refill we knew we were being ambushed, and by the time we got the cheque we were charged 85LE for nuts we hadn't ordered. We weren't very bothered though because they were scrumptious.
We ordered the Tropical Joy (30LE) cocktail that had a mix of kiwi, banana, strawberry, and pineapple juice; as well as the Pink Ice (30LE) that had strawberry, vanilla and yoghurt; and the Lemon Splash (30LE) that was electric blue and a mix of lemon, blue Curaçao, blueberry and lemonade. All equally enjoyable the drinks were served freezing; the ingredients were fresh, sugary and exhilarating. The juices in each cocktail were mixed to a perfect, balanced blend.
For food we tried the pasta with shrimp (90LE), which came with shrimps and raw garlic sautéed in extra virgin olive oil; it was soaked in the right amount of Alfredo sauce with a refined mixture of spices. It was one plate that we'd surely recommend.
We also tried their shepherd's pie (95LE); with layers of lean ground beef, celery, carrots, and onions in rich gravy topped with smooth mashed potatoes and cheese, it was baked golden brown then served with Irish soda bread. The layers couldn't fit or melt together any better and the flavours were delicious.
After asking the waiter for a light salad, he recommended a Caesar salad that wasn't on the menu. Although it was his suggestion he failed to report it to the kitchen and 30 minutes later we had to remind him again. In the end it wasn't any good with a strong fishy aftertaste.
On the other hand though, the Bellini burger (75LE) with beef bacon, cheddar cheese, jalapeños, pepper and guacamole was a success.
Despite a grumpy waiter and bland salad, the night was spectacular with the salsa music and dancing and the striking interior.