Boss Bar: All Cheese and No Fun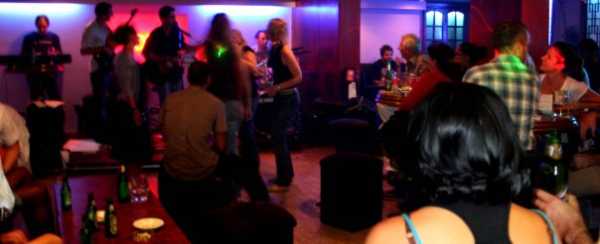 For some reason, bars and nightclubs in Maadi never manage to be hip or popular, despite Maadi housing a huge community of party-goers, who have to immigrate all the way to Zamalek or Mohandiseen for a decent night out.
Once a tacky but fun karaoke place called Golden Bells with peculiar looking women lounging in corners, this bar was recently given a face lift with flat-screen TVs and low lighting. It's hard to pinpoint why Boss Bar fails to be cool, especially since the management is making a visible effort to replicate the Jazz Club formula with a busy weekly schedule including live band shows during the week and DJ's on weekends.

We were willing to give Boss Bar the benefit of the doubt by checking it out on a Friday night with supposedly funky DJ music.
The first thing that we noticed was the front-door policy- or rather lack thereof. Call us old-fashioned, but watching a rowdy crowd get, erm, rowdier, can be a turn-off.
The other thing we noticed was that the management couldn't seem to handle such a large crowd that night- the bartenders at the central bar were practically screaming with panic when more than four people clamored for their attention at the same time. To top it all, they ran out of ice. And it wasn't even midnight.
We could have disregarded all this if we had been able to enjoy ourselves on the minuscule dance floor, which is really just a tiny stage in the corner. Dancing there was like being part of one big, happy meat sandwich, and we don't mean that in a nice way. The acoustic system definitely couldn't handle the beats of the DJ's tunes, and we couldn't handle the lack of dancing space.
We're sure that Boss Bar has its charm as a low-key watering hole on a quiet weekday night, but so is Pub 55 on Road Nine, and that doesn't have the strange atmosphere found here.