Bull's Eye: British Pub Culture in Cairo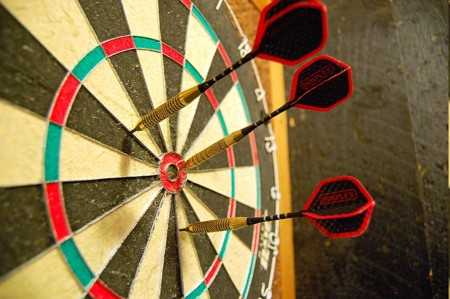 At 9PM on a
Wednesday evening, this forgotten Mohandiseen bar may seem like the watering hole
of a ghost town. However, as the manager will tell you, 'just give it an hour;' and
Bull's Eye turns out to be quite the popular hang-out.
This
friendly neighbourhood pub recently got a facelift this past Ramadan. The venue
is small and decorated in dark wood with bright red upholstered furniture and
soft lighting. Playfully named after the
popular pub game darts, the bar has a single dart board hanging near the
entrance, while place mats on the tables and high tops feature the rules of
various versions of the game.
An English
pub atmosphere is clearly Bull's Eye's aim, and in certain capacities, they
pull it off; but the dance floor in the centre suggests that the late-night
crowd is a little less of the chatting-over-a-few-beers type. Early in the evening, though, Bull's Eye is perfect
for just that.
You may
wait a few minutes for a menu and then be expected to decide on your order
pretty quickly, but other than that, the service at Bull's Eye is quite good. Drinks
come quickly, and in addition to local wine and beer, such as a Heineken for
23.75LE, Bull's Eye has a nice selection of cocktails available. After sampling the Blue Lagoon (35.75LE), we
recommend their mixed drinks over the beer and wine, which don't give you the
same value for your money. A strong pour of Absolute and Blue Curacao was
served in a Martini glass with crushed ice. Although the menu promised lemonade
in the mix, we received a slice of lemon floating atop the nonetheless tasty
beverage.
The food at
Bull's Eye is nothing fancy, but still quite appetising. Chicken liver (27.75LE) can be served either
grilled or in a thick, creamy gravy with just a bit of a kick. Cheese paprika (15.75LE) is presented with a
drizzle of olive oil and finely diced fresh tomatoes and green peppers. The dish is light, refreshing and fortunately
not too salty.
An order of
vegetable curry (24.75LE) was unfortunately disappointing. Although the curry was nutty and rich, the
mixed vegetables didn't meet the sauce until after being overcooked and
waterlogged. Pasta salmon (33.75LE) fared much better. A lightly flavoured
creamy sauce balanced out the salty, smoked salmon over penne.
Strangely
absent from this menu were burgers, a staple of pub food everywhere. However, a
long list of mezzas, seafood dishes, pastas and steaks more than make up for
this absence.
Had it not
been for the fact that we hadn't made reservations to stay for karaoke night,
we could have stayed at Bull's Eye all night long, or at least long enough to
have a turn on the dart board.