Cairo Jazz Club Introduces New Menu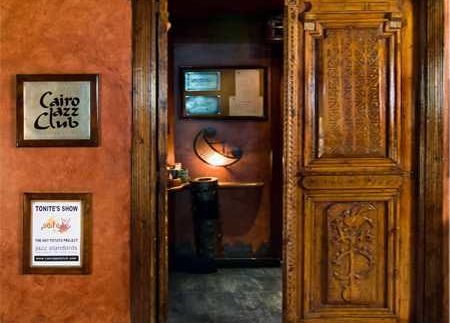 The Cairo Jazz Club has survived the years as a
favourite haunt for many a Cairene in search of live local music, a regular
crowd of revellers and some bar-side refreshments. While predictability has
long been one of its strongest traits, Cairo Jazz Club devotees may be in for a
bit of a surprise; as one of the Capital's most popular nightspots is having a
makeover, in what we anticipate will be a big way.
We'll start with the menu. Food, you say? Yes, the
arrival of a new chef determined to produce more than guilty-pleasure-worthy
pub fare means the kitchen will be turning out a surprising selection of
deceptively healthy and delicious new items.
On a recent visit, Cairo 360 was greeted by a rare sight: a
relatively empty and smoke-free Cairo Jazz Club. After our initial shock, we
soon learned that our early evening stop-by is scheduled to become a regular
fixture in the lounge's near future, as management is making bold strides to
cater to young professionals, early sleepers and even young parents looking to
unwind on a weekday before heading home.
Surprisingly few patrons catch the club's daily happy
hour from 7:00PM to 9:00PM, even though its central location makes CJC a prime meeting
spot for many commuters who are not yet ready to head home for the evening.
We're guessing the new food and drinks menu will help to draw an earlier crowd.
A recent menu sampling gave us a taste of what's to
come. Accustomed to the delicious and oh-so-indulgent menu that the CJC has had
for years, we were quite literally stopped in our tracks by a fresh spring roll
compilation, made of a thin filo shell, stuffed with cucumber mango and mint,
and accompanied by a tart dipping sauce. This was followed by a delicate salad
of fresh greens. Not your standard bar food, you might think; but the chef
makes a compelling argument for patrons' appreciation of wholesome, locally
selected cuisine that still goes well with a cocktail or a Heineken and some live music.
Also featured on the menu will be delicious burgers with
organic beef, homemade bread and fresh vegetables. The low-calorie, butter-free
cooking certainly takes the guilty edge off of dining out. Fresh smoked salmon
is imported from Sweden,
and produce is hand-picked by the chef and her team.
Desserts are sure to satisfy the severest of sweet teeth,
with cubes of dense white chocolate, milk chocolate and dark chocolate drizzled
with raspberries and a dollop of passion fruit sorbet. The cheesecake, whose
mysterious and unconventional secret ingredient we won't reveal, is equally
to-die-for. Ask the chef for some clues as to the ingredient when you try it yourself.

Not to be outdone by the new food menu, the CJC has
also introduced a revamped mojito and cocktail menu with some very creatively
named drinks: we highly recommend the blue-eyed blonde: Bailey's, blue Curacao
and bananas; and the horny mohican: Bailey's, banana and Malibu. Cocktails range between 36LE and
60LE. The mojito menu includes raspberry, strawberry, vanilla, cantaloupe and
kiwi flavours (42LE).
The Jazz Club proves that it is just as loyal to its
customers as they to it; along with the brand new food and drinks menu, the
club has taken measures to improve ventilation, a clearing of the air that is
sure to please visitors. Stay tuned for the launch of the new menu, expected
any day this month.