Carlton Hotel and Bar: Breezy Rooftop over Downtown Cairo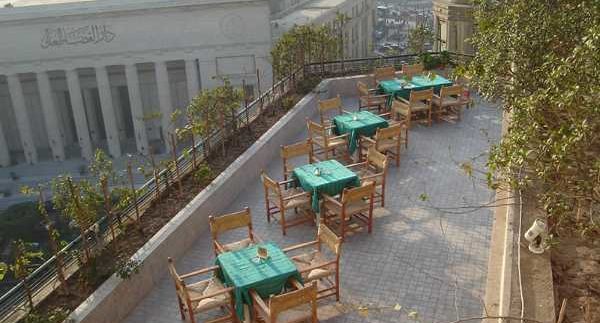 Spending an evening out in
Cairo to enjoy the night-time breeze seems to be at the forefront of our minds.
At the top of our list is our quest to find even more outdoor places in Cairo
to enjoy the cool weather in without hard-blowing air conditioners.
Located off of
26th July Street Across from the Higher Judiciary Court, the Carlton Hotel has been around for awhile. As the hotel is well known among the Downtown community for its spacious rooftop
terrace, we headed up to the 8th floor to give it a shot.
Indoors, the
seating areas are composed of sectional couches and a simple classical decor.
An empty dance floor's bright lighting and quiet atmosphere ushered us outside
for a more energetic ambiance.
The terrace is
sprawling, with covered tables and wicker chairs lining the edge of the roof.
The strings of bulb lighting and tree-lined edges make for a cosy getaway and
refreshing view of Downtown's skyline. It's quiet, open and clean – does it get
much better than that? Without fail, a TV screen always plays the best of artists
like Mariah Carey and Alicia Keys, but it was quickly drowned out by good
conversation with close friends.
Sweetly designed
and located on the opposite side of the 8th floor is a smaller balcony with room
for only one table; perfect for a romantic drink or private conversation for
two.
While the bar
boasts a full-scale menu including wine, beer and other spirits, the only
alcohol available at the time of our visit was Stella, Meister Max and a stout
Scotch mixture (35LE).
For 9.25LE, a
Stella is served ice cold with a chilled glass, not only did the product equal
perfection for this picky bunch; but the price is nearly unbeatable.
For 10LE a fresh
cup of mango juice is also served in the same chilled manner. The mango is
sweet, extremely fresh and thick, making it a hearty glass of goodness.
The shisha isn't
disappointing, either, and for 3LE, you can't go wrong! Either served with
apple or tobacco flavouring, the shisha is spot-on with just the right amount
of coals.
This rooftop
getaway is the perfect place for a cheap drink and a relaxing evening. A full-scale
restaurant menu is also available, including salads, sandwiches and
desserts.