Carmen Pub: Casual Lounging, Spanish Style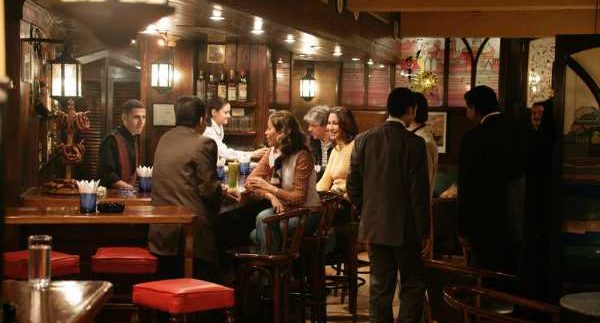 We confess there's
actually nothing particularly Spanish about this pub, except that it's located in the
Spanish-themed Flamenco Hotel, there's a stained glass scene of a Flamenco
dancer at the entrance, and it attracts a more European crowd. Everything else looks standardly 'pub'-ish,
with a dark wood bar and wood chair bar-seating. But it's still a nice place to spend a few
hours.
White leather
couches lend an atmosphere of comfort and low tables encourage relaxation. Not
much can be said about the food and drink, however, which was consistently underwhelming.
A caipirinha (40LE) proved that the bar tender
had no real knowledge of drink mixing, as it came in the form of rum and lime
on the rocks, minus any hint of mint and no trace of the promised brown
sugar. Sending it back for a second
attempt proved futile, and when the waiter disclosed that he'd added extra rum
to an already too-strong concoction, we gave up and banished it.
We should have
learned our lesson, but we went on to try a South American sunrise (41LE) which
had gold rum, crème de banane, campari, orange juice, and pineapple, and a mangola
mocktail (20LE) with mango, guava, apple, and melon juices – and they ended up
looking surprisingly alike. Thankfully,
this time the cocktail was drinkable, with a subtle taste of rum, and a sort of
spiked punch flavour. The mangola would
have been tastier if made with a little less of the thick guava juice.
The gourmet
burger (35LE) with mushroom ragout and fries was a surprisingly nice, juicy,
big burger, that was slightly crumbly but had a good mix of caramelised onions
and peppers to balance out the substantial sesame bun, and a good helping of fries. The salami pizza (28LE) however, was less
impressive. Raw on one side and burnt on the other, it looked more like a
microwave pizza than something you'd want to order out.
As we visited on the
evening of the World Cup Spain
vs. Portugal
match, we witnessed first hand how packed with Spanish nationals it can get,
and the flat screen, large screen, and leather couches were put to their best
use. The lively crowd enhanced the
atmosphere, although the small space is cosy whether empty or full – just be
careful what you order.
.