Corniche Bar: Gloomy Bar in Sofitel Maadi Towers
Sofitel Maadi Towers & Casino, 29 Corniche El Nil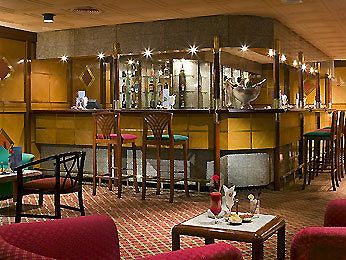 After a perplexing drive to find the Sofitel Maadi's car park behind the hotel, we hoped our visit to Corniche Bar would not be disappointing. We entered the hotel, marvelling at the fuchsia lighting on the outside and proceeded to walk through the contemporary lobby to the large, golden lifts.
Stepping out onto the first floor, we were a little confused. The décor had changed from clean and chic to shabby, worn out and old-fashioned. Our high hopes for this place were dashed in an instant as we took in the out-dated furnishings of the bar. The busy, patterned carpet made our eyes feel funny and the wood panelled walls and stained glass around the edges certainly weren't to our taste. The Corniche bar is fairly small, with a few sets of arm chairs and sofas, with extra bar stools positioned around the bar. We assumed, being named Corniche Bar that there may be a good view of the Nile, however, there wasn't even a window. Feeling slightly deflated, we chose to sit on one of the red, striped sofas with floral cushions and asked for a menu.
One thing we can't fault this bar for is the extensive list of both imported and local alcoholic and non-alcoholic drinks. They offer both hot and cold drinks, non-alcoholic cocktails, and a choice of several rums, tequilas, gins, vodkas, whiskeys and cognacs. For the whiskey and cognac fanatics out there, you can get your hands on a glass of 21 year old Royal Salute for 560LE and 6cl of Martell X.O for 710LE. Steering clear of the neat stuff, we decided on a selection of cocktails; one of our personal favourites, a Pina Colada (70LE), a Cosmopolitan (60LE), a Peach Bellini (60LE) and one non-alcoholic Virgin Planters Punch (25LE).
The Corniche Bar also has a small selection of finger foods, although, in our book, pizza and burgers are not the most elegant bar snacks. We ordered a Smoked Salmon Platter to share (58LE).
Before long, the cocktails arrived with a complimentary plate of cheese. We know that the Sofitel is a French chain and the French tend to like their cheese, but we still found it an odd choice of complement for our tropical cocktails. The Pina Colada was disappointing, watery and any taste of coconut was over ridden by the pungent rum. The Cosmopolitan was a bit better, tasting more of concentrated cranberry and lime juice but still had a strong, vodka after-taste. The Peach Bellini was a hue of bright blue, apparently from the Blue Curacao, and nearly blew our heads off – it was extremely strong and undrinkable, without a hint of peach. On the contrary, the Virgin Planters Punch was the best of all; a simple, sweet fruit juice mix.
The smoked salmon was nicely presented with small cheesy dough balls, capers and brown, granary bread. The fish itself was nothing out of the ordinary and because the coffee table was so small and low down, constantly leaning down made for some awkward eating.
By our reasoning, the management should focus their efforts into perfecting their cocktails
and would do better remembering it is quality, not quantity in their menu that's
important. The Corniche Bar is a far cry from venues like
Buddha Bar
and
Le Deck
at the Sofitel in Zamalek, and indeed many other drinking holes in the area. Unless you're staying or eating at the hotel and wish to have a night-cap, we wouldn't advise making a special trip to the Corniche Bar.