Deals Heliopolis: Super Affordable Korba Retreat
40a Baghdad St., El Korba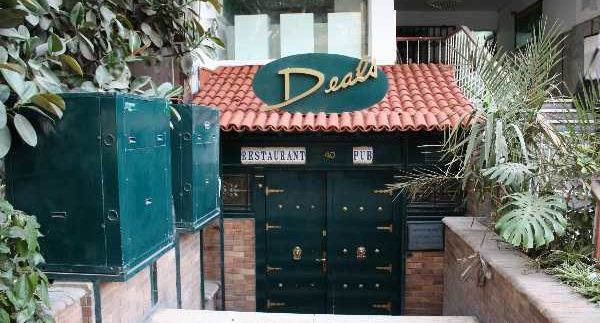 For some unknown reason, there are not enough
nightlife spots in Heliopolis .
Although many people know that there is a Deals bar in Korba, it hardly gets as
much attention as its Zamalek and Mohandiseen branches. It's a shame; although
it's not the most hopping place in town, the drinks are affordable and the
atmosphere is laidback with dim lights and oriental pop music.
Deals Heliopolis has a
surprisingly large menu, although most Heliopolis
peeps just drop in for a drink and an appetiser or the occasional burger. The
cheese croquettes appetiser is yummy: a half-dozen breaded and fried croquettes
filled with rumi cheese come with a
surprising horse-radish sauce. Order it with a sweet drink to keep the salty
taste at bay.
The Acropolis salad, the menu's Greek salad, is
nothing too special: standard lettuce is served with raw onions, tomatoes,
olives and feta cheese from a box. You'll have better luck with the chicken
Caesar salad, which comes on a large plate of grilled chicken, lettuce and
croutons.
The burger, one of the staple Deals' meals, is hand-molded
from real ground meat. Although the meat's quality is good, it is sadly not
seasoned with herbs, onions or garlic. The cheese is not even melted onto the
burger and sits pathetically on the miniature beef patty.
On a plus side, the food is not too
expensive. Appetisers and salads cost between 20LE and 30LE; entrées cost
between 40LE and 50LE, with seafood entrées starting at 60LE to 75LE.
The beer and wine are affordable too, but if you're
looking for something a little more out of the ordinary, check out Deals' cocktails.
The white lady cocktail, which consists of gin, lemon
juice and Cointreau, is quite tasty but it's mostly lemon juice. The Cointreau
can barely be tasted and the gin is quite faint. This cocktail is basically
juice with a zing. If you're on the lookout for stronger drink, try the bloody Mary.
It is the perfect mix of tomato juice and vodka, although it could have a bit
more pepper and a bit less ice.
The Americano drink, made from Campari, sweet vermouth
and soda, has a lingering bitter taste that isn't at all alleviated by the
sweet vermouth. The soda water can also be a bit flat; but at least the Campari
taste is quite apparent.
Expect to get a kick, quite literally, out of the Long Island ice tea. It's a strong and delicious mixture
of all the different kinds of spirits; you might need to order a small appetiser
or salad just to get this drink down. It's also the most expensive of all the
cocktails at 55LE, whereas most of the mixed drinks cost a modest 35LE. Four cocktails,
an appetiser, salad and burger can cost around 300LE.
For its price and quality, it's really a wonder why
more Heliopolis
folk don't frequent Deals. If you happen to be in Korba on a late night, and
you're looking for some quick eats and a drink, this place will hit the spot.