Deja Vu: Chilled Pub in Alexandria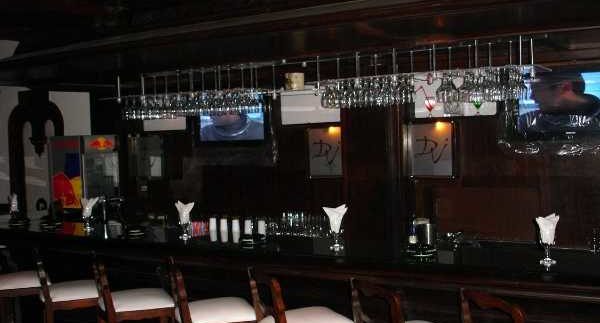 If
you wanted to re-enact the nightlife scene in Alexandria about 30 to 40 years
ago, all you would need is to set your camera on its black and white mode, and
given the fashion trends these days, just head on out to one of Alexandria's hottest
pubs, Déjà Vu.
Located
on Fouad Street, above Plaza cinema to the right of Sayed Darwish Theatre, Déjà
Vu has existed since 1968 and seen many different names: first as an English
tavern, then as Au Privée, followed by Far and Away, Karma and finally, Déjà Vu.
The
venue name's relevance is evident as soon as you take a step inside. With the
interior left as it was originally minus a few restoration adjustments, Déjà
Vu's wooden walls and ceiling exude a feeling of nostalgia and timelessness,
though the furniture does have a funky twist.
One
of the distinguishing aspects of Déjà Vu is their kitchen. With the lack of
good nightspots in Alexandria, gobbling up their entire menu is no problem. The
sushi is excellent, beyond doubt the best that you can find in Alexandria, especially
their J'aimais Vu sushi roll.
Aside
from the sushi, Déjà Vu has a wide variety of dishes to suit your entire
party's palate. Dips and mezzas range between 25LE and 55LE, including the
highly recommended cheese platter – a fine selection of Brie, Roquefort,
Emmental, and Parmesan. Main courses range between 39LE and 79LE, including pizzas
and pastas as well as a great salmon steak. Desserts include chocolate
fondue, which is heavenly.
The shabby-chic bar brings back the pub concept to this beautiful cosmopolitan city and stocks a variety of both imported and local drinks, in
addition to a pleasant cocktail menu – try the Bullfrog. Drinks range between
40LE and 70LE, while both local and imported beers cost between 20LE and
25LE.
One
of the best aspects of Déjà Vu is that every night is a completely new theme. There's
Happy Monday, which offers an amazing 50% off beverages, while Tuesday is an All-You-Can-Eat-Sushi
night. On Wednesday, the bar offers an Open Beer and Wings night, while
Thursday has a DJ to get the crowds dancing. Friday is karaoke night and last
but not least, there's live entertainment on Saturday.
Prices
at Déjà Vu are pretty moderate, depending on which night you visit the pub; it could cost
between 60LE to 200LE per person.
As
with many pubs, the downside to this venue is the service. The waiters are a
little slow at bringing your order, and you may feel that there is a
communication issue.
Déjà Vu offers you a glimpse into the golden
days of Alexandria. If you're ever in town, try Déjà Vu; it's guaranteed
to be a fun experience. The fact that every visit to the pub has its own zest, makes Déjà Vu one of Alexandria's best nightspots.