El Shagara Lounge: Shisha and Sambousak by The Nile
Inside Al Shagara Casino, In Front Of Conrad Hotel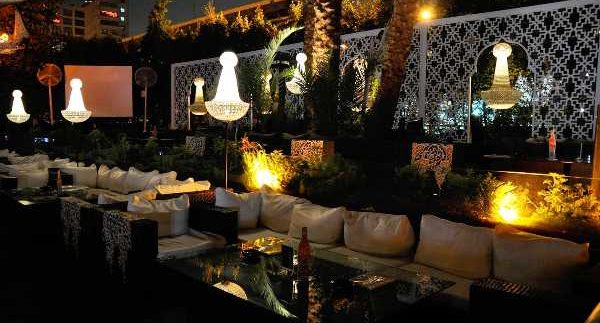 By pure chance or by clever strategic
planning, all of the most popular Ramadan tents in Cairo
are set up on the Nile with beautiful river
views and a fresh breeze. El Shagara Lounge is a clear example. Located on the
Nile Corniche on the grounds of the former Sangria, the lounge has been
revamped and organised by ByGanz to fulfil the Cairene need for a
trendy sohour nightspot.
Predominately decorated in white with a
modern take on oriental design, the open-air lounge is flanked by white metal
walls in mashrabeya designs and decorated with white teardrop chandeliers emitting
a luscious glow. Black wicker chairs carry comfortable cream cushions for low
seating, and if you're really lucky, you might get a low table right on the Nile for an optimum view. A large tree in a corner, obviously
the inspiration for the lounge's name, is adorned in white, cut-out mashrabeya
pieces.
LCD screens are dispersed between the
tables and play Ramadan TV series on mute, while two large projectors flank
opposite corners of the area for prime viewing if there's an important match
on. Despite the refreshing Nile breeze,
fans are positioned throughout the space to cool down those extra hot and humid
Cairo nights.
Reservations are necessary for El Shagara,
even on a weekday, and you have to confirm your reservation a few hours before
you arrive. When you do show up, make sure it's early; as they seem to have a
first-come-first-serve basis and all the best seats are snatched up early on.
That being said; the front row tables were reserved at the time of our review,
and they remained empty well into the night; so perhaps the best tables can be reserved if you're a VIP.
While the cuisine at El Shagara is standard
and unimaginative oriental fare, the service is fast and satisfyingly
attentive. The shisha waiter will present you with a mother-of-pearl covered
wooden box filled with El Shagara's special shisha flavours, including kiwi,
coconut, cappuccino and Red Bull. Within minutes, your shisha will arrive,
after which someone will attend to it every ten minutes or so without
prompting.
The food arrives equally fast and hot, and ranges
from the rather bland foul Alexandrian-style (20LE) to vine leaves (25LE) and a
fierce white cheese dip (20LE). The cheese sambousak (25LE) was a huge hit at
our table and was constantly re-ordered throughout the night. For dessert, the
rice pudding (25LE) is equally awesome. Arriving nicely chilled with the right
milk-to-rice consistency, the pudding is a refreshing way
to cool down in the heat.
El
Shagara imposes a minimum charge of 100LE++ per person, which neither includes
shisha nor drinks. It's a place that you'll go to more for the chic atmosphere and
celebrity sighting than for its food, though we do highly recommend the
sambousak and rice pudding.