Estoril: Blame it on the Garlic
Bar,Egyptian,International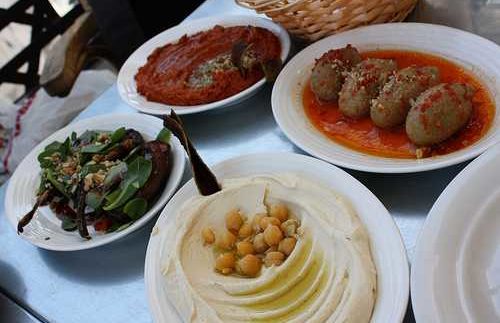 Located in a dark alleyway between Talaat Harb Street and Kasr El Nil, Estoril is the epitome of the cool, old school, downtown Cairo bar. Like its contemporaries El-Horreya and Café Riche, Estoril offers a simple, unpretentious atmosphere where leftists, intellectuals and artists meet to argue over their cheap Stella and stare pensively into their hummus.

Once a favourite lunch spot for this reviewer back in college days, I was enthusiastic to revisit the bar if only for its once legendary Fatta with Chicken and Chickpeas which had been cheap and delicious back in the day. Sadly, the years have not been kind to the Fatta; it now tastes like cardboard with yoghurt on top and only serious amounts of garlic and salt made it semi-edible. The Ratatouille on the other hand was not that bad, tasty and not over-seasoned.

What Estoril still does well is its mezzas: the Sambousak with Cheese was fresh and crunchy, while the Fattoush had just the right combination of crispy texture and flavour. But the bar's culinary highlight has to be its tomeya, a creamy garlic dip that is not recommended for the faint hearted. Three garlic experts have told me that this is arguably the best tomeya you will find in Cairo: the dip is creamy yet packed with enough flavour to induce tears and some fervent coughing if you ladle too much onto your toast. The garlic seemed to have some strange effect on our party; by the end of our dinner we were unreasonably jolly and for some reason felt inclined to wear sailor hats made out of our napkins, much to the cooler patrons' dismay. For dessert, the Mahalabeya had a subtly sweet flavour though it was a little watery—much better than the bland Crème Caramel.

The bar's lack of music, low-key lighting, and simple décor make it an ideal destination for a quiet afternoon drink with a friend, emphasis being on the quiet and most definitely not the place for a rowdy night out. The waiters seemed as old as the place itself so their absent-minded service was forgivable. Estoril is kind to its regulars, who get exempt from its 6LE cover charge and receive a complimentary dish of White Cheese with Tomatoes with their beer.