Harry's Pub: A Small Slice of London in Zamalek
Cairo Marriott Hotel & Omar El Khayyam Casino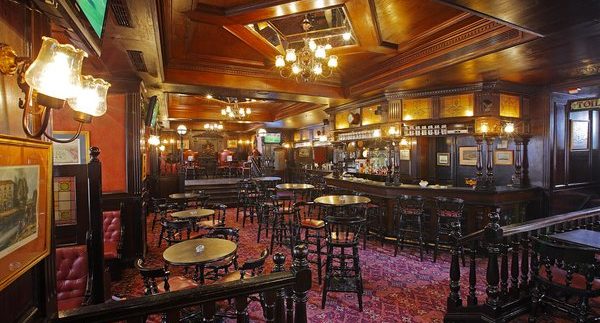 As a renovated palace, the Cairo Marriott hotel in Zamalek is as gaudy as any of its peers in the capital. With one side adjacent to the forever busy 15th of May bridge, the parking-lot-come-garden around it affords some feeling of seclusion from carnage of Cairo's traffic.
Often wrought with guests and expats looking for a no-nonsense night of alcohol-based respite, Harry's Pub is one of the Marriott's most popular venues. With a welcoming atmosphere and comforting aesthetics, figuring out how to unwind is a decision made easy, especially with the range of cocktails on offer.
The tongue-twisting Lemonade Limoncello (75LE) comes generously in a tall glass, but the ratio of lemonade, limoncello and vodka was a little off. The clear lemonade used was flat and the bitter zest of the limoncello was absent. Served on recommendation without ice, it quickly became warm and the strong vodka kick fizzled to a blunt.
The Negroni (75LE), on the other hand, was quite the treat. Gin, vermouth and Campari were tossed to a perfect blend in a small, neat serving. In an attempt to really test the mettle of the bar staff, we flashed our best puppy eyes as we expressed dismay that the menu featured no whiskey-based cocktails. After some behind-the-scenes whispering, one particularly enthusiastic staff member was more than glad to rustle up a whiskey sour, for which we were charged a very fair 75LE. The cobbler came filled right to the rim and although it tasted more lemony than usual, it was an impressive piece of craft by the bar staff. Although the J&B whiskey used was slightly overshadowed by the lemon, the result – deliberate or otherwise – made for a wonderfully light cocktail.
Offering a distinctly un-British selection of food, we found the Harry's Sliders (mini burgers) to be one of the more bar-appropriate snacks. For 85LE, the kitchen serves up three burger variations; with egg, with beef bacon and with melted cheddar cheese. Although each was agreeable enough, the patties were dry and, in the blast of the air conditioning, the bread quickly became crunchy and brittle.
The problem with Harry's Pub is that, in trying to be a quintessential British pub, it's gone overboard and almost become a parody of itself.
And like so many watering holes in Cairo, Harry's is stuck in that limbo between simple, classic sophistication and youth-magnet energy. The dark wood and dim lighting contribute to a relaxing mood, but why the overly loud speakers blare out the sort of beat-monotonous club fillers usually reserved for Cairo's trashier bars is a mystery – how about some nauseating English folk instead?