Harry's Pub: Traditional English Pub with Karaoke Flair
Cairo Marriott Hotel & Omar El Khayyam Casino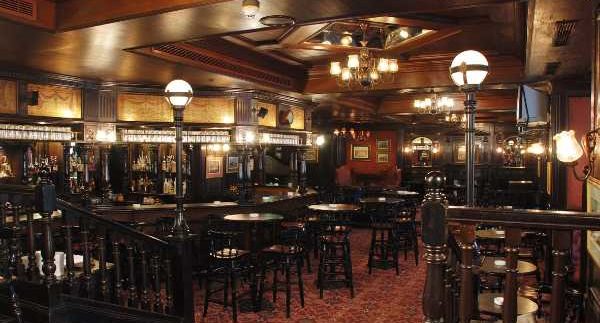 If the thought of watching a football match while
gulping down a cold beer and fish and chips strikes your fancy, we suggest you
head to Harry's Pub– the closest thing to a traditional English pub you'll find
in Cairo.
With live music on Wednesdays and karaoke night on
Fridays, it's no surprise that this bar has become a popular hangout for expats
and locals alike. Located on the ground floor of the Cairo Marriot Hotel in
Zamalek, Harry's Pub is one of the island's most cherished nightspots.
One step inside and you'll feel like you're in an English pub,
with large comfy leather-bound booths, bay windows, high bar stools, stained
glass, and prints of 18th and 19th century London. The owners were going for
an old-world English feel, and having imported the entire decor from the UK; they
certainly got what they paid for.
The menu is full of traditional English dishes,
including roast beef with Yorkshire pudding (130LE), beef bacon and egg pie
(55LE) and the ultimate English finger food– fish and chips (85LE). We love the
fish and chips, but we have to warn you, it's definitely not the street food
version served greasy in bulk. After all, this is the Marriot! The fish is
quite dainty, lightly dipped in batter and fried nicely. It's served with just
a few chips elegantly placed in the corner of your plate.
All Egyptian beers, including Stella, Saqqara and
Meister Max, are for 25LE, while an imported Guinness goes for 55LE. The
cocktails and spirits menu is also diverse; and if you're looking for a drink
to get over your shyness before karaoke starts, we suggest you try the Long
Island ice tea (60LE) or a Knob Creek Bourbon (75LE/shot).
Harry's Pub is certainly one of the best spots for
karaoke in Cairo. Karaoke nights guarantee a lively crowd that borders on
rowdy. The selection of songs does not disappoint, and the crowd usually sings
along with the performances. It's a great way to make a new friend– or ten of
them.
There is a 100LE-minimum charge per person, and it's
not difficult to reach either; a beer or two and a main dish will do the trick.
It's rumoured that regulars can bargain their way out of the minimum charge,
but don't take our word for it, try your luck for yourself.