Indigo: Dapper Bar in 6th of October City
Al Yasmin Mall, Next to Heritage International School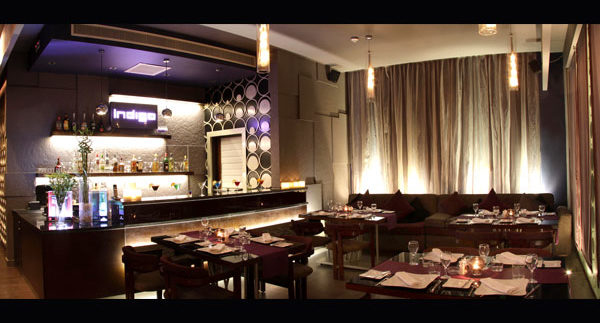 Nightlife in Cairo is largely limited to the busier parts of town, meaning that residents of the newly developed areas are often at a loss when it comes to bars and clubs. Whilst 6th of October City is not wildly popular for its nightlife, there is undeniably growing demand for venues where one can enjoy a few quiet drinks with friends.
Convenient for those who don't feel like visiting central Cairo, Indigo Restaurant and Lounge is located in the heart of 6th of October City. The atmosphere gives off a laid back vibe, with the addition of a European-Arabian menu, offering a variety of food and beverages.
Recently renovated, the venue has been expanded, taking on a second outdoor area. While we understand the need to expand any venue, in our opinion, the remodelling was unnecessary and appears a little out of place. Taking over the main entrance, several, unimpressive wooden tables and chairs are separated from the rest of the venue with panes of thick glass.
The inside contrasts with a more elegantly-chic vibe, complete with dim, romantic lighting, roomy dinner tables, neat tableware and an orderly-looking bar.
The older, third section of the lounge, sheds on a more casual, outdoors environment. Tented over, and arranged with low, wide tables and full-sized comfortable couches, the outdoor area seems cosier and more informal, perfect for meeting with friends. While the off-white and deep purple interior gives off a stylish, modern vibe, the atmosphere here sets off a laid-back mood.
For locals, the place is well known for their variety of cocktails. We ordered four different kinds; one Cosmopolitan (62LE), a vodka apple pie (77LE) – vodka, apple juice and cinnamon – as well as the house special, called Pico (77LE) – vodka, red bull, cranberry juice, orange juice and grenadine – and a Martini (62LE), which seemed rather too sour and lemony than an actual Martini. Although their cocktails seem a little overpriced, their mixtures were adequately balanced.
With a reputation for exquisite cuisine, we decided on splitting the Risotto Trio Mushrooms (74LE); a rich, creamy risotto with three kinds of wild mushrooms, topped with Parmesan cheese. Served in a deep dish, we'd go as far considering it the finest tasting risotto in town.
While the place is a little overpriced, Indigo is undoubtedly one of the better bars located in 6th of October City. With its chic décor, decent food and exotic variety of drinks, this is a bar that meets the needs of those looking for a venue with an easy-going but stylish atmosphere.