Indigo: First Class at First Place
First Mall, 35 El Giza St.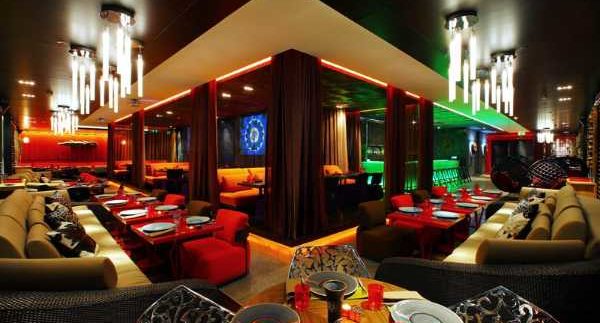 You can't help but notice the amount of attention that's been devoted to decorating Indigo. From the striking wall panels to the funky "chairs" by the bar dangling from the ceiling, this is lounge -meets-restaurant done very differently. The impressive interior coupled with the chill-out Buddha Bar style music playing in the background adds to the atmosphere, and instantly you know you're in for a good night.

Having a drink at the bar before proceeding to the dining area is strongly recommended, as the bartenders really know what they're doing when it comes to mixing a cocktail. I've tried about four or five cocktails, and so far no complaints, in fact, the cosmo and martini were close to perfection.
The atmosphere only gets better in the dining area which has a great view of the Nile, and features big comfortable sofas and chairs. Vietnamese, Indonesian, and Spanish are the cuisines on offer and encouraged by what we had seen, my partner and I decided to go for broke. We ordered a dish which was a combination of shrimp konafa, scallop skewers, chicken and calamari, served with an assortment of sauces. We also opted for the Paella Royal (a dish for two) which included shrimp, calamari, and of course tender mussels. Both dishes were beyond excellent and left us gasping for air as we were completely stuffed. The seafood was cooked just right (especially the scallops which can become a bit tough if overcooked even for a few seconds) and the Paella was unlike anything I had tasted before in Cairo.

The great thing, and the missing factor from several other lounges and restaurant spots in the capital, is the level of service. The waiters have obviously benefited from extensive training and can actually give decent food recommendations, although the bar service could use a little work as the bartender can get overwhelmed when even the smallest number of patrons turn up.

Indigo is not the cheapest of restaurants, and that is an understatement. Dinner for two can cost around a grand, although that usually includes several delicious cocktails. Still, if you've got the cash to splash, you will leave feeling it was definitely worth it.