Jayda: So Much Potential, So Little Effort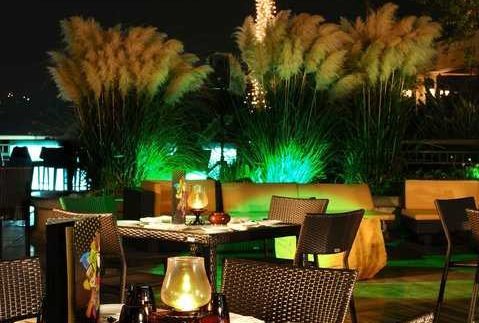 Located on the Nile Corniche in the Conrad Hotel, Jayda is one of Cairo's newer lounges, and
although it looks gorgeous in photos, the reality leaves much to be
desired. From the way we were pursued
with an urgent 'Excuse me!' halfway through the Conrad lobby after entering, to
the way we were interrupted only minutes after we sat down to take our order,
the experience on the whole fell kind of flat.
We wandered aimlessly
through the doors of the pool area where Jayda is located, as there was only a
sign but no maitre d'. So, we walked in past
the dining area, until we hit the bar where finally someone asked if we'd made a
reservation. When we said no he motioned towards the bar area, featuring both
high and low tables; but we wanted to witness the beauty we were after, and
started walking in the opposite direction to sneak a peek.
There were
couches alright, but they seemed haphazardly clustered to face a large TV screen
playing the match, in a vast space too big for its contents. Most couches were full or reserved, and we were
escorted back to the bar area where the second best option was uncomfortable
high chairs with a dark Nile view across from Sangria.
We hate to be
seated before someone comes to wipe the table, but that's what happened. And being too engrossed in conversation to
take more than a passing glance at the menu, we were incredibly rudely
interrupted by a waiter coming in from behind and declaring an abrasive 'Excuse
me!' to cut in and ask for our orders, to which we responded that we weren't
ready.
We ordered a pina
colada (75LE), and a golden treasure (32LE); a mocktail of pineapple,
strawberry, mango and guava. The pina colada was so strong and bitter; we were
left wondering where the pina was. The golden
treasure was alright, but it would have been a real disaster if they couldn't
mix a few fruit juices together. Both drinks
come in astonishingly small glasses that feel like they're from a juice bar in
Tahrir, only at eight times the price and far less tasty.
We also decided
to try a virgin Mary (32LE) and snack on one of Jayda's specials; some maklooba
bazengan (20LE): rice with eggplant, pine nuts, almonds, tomatoes, onions and
mint. Unfortunately, these items didn't
redeem Jayda's sinking reputation. The virgin
Mary was odd, spicy and tasted more like red shrimp cocktail sauce than
something you'd want to drink. And though
the maklooba was more promising with a nice presentation and tasty rice, it still
didn't quite hit the mark; being kind of sour and sorely lacking in
eggplant.
Other offerings
were Heineken and Saqqara drafts (40LE, 22LE for
a small), or bottles (36LE), cocktails and shooters (75LE), mocktails (25LE to 32LE),
various mezzas (20LE), and a few items off the grill (averaging 60LE). A Stella costs 33LE, while a shisha costs 20LE,
with the special 'Bahrain Apple' costing 30LE.
Desserts were limited to Middle Eastern sweets at 25LE, and there was a
three-course set lunch menu for 135LE.